What are Tactical Advancement Kits?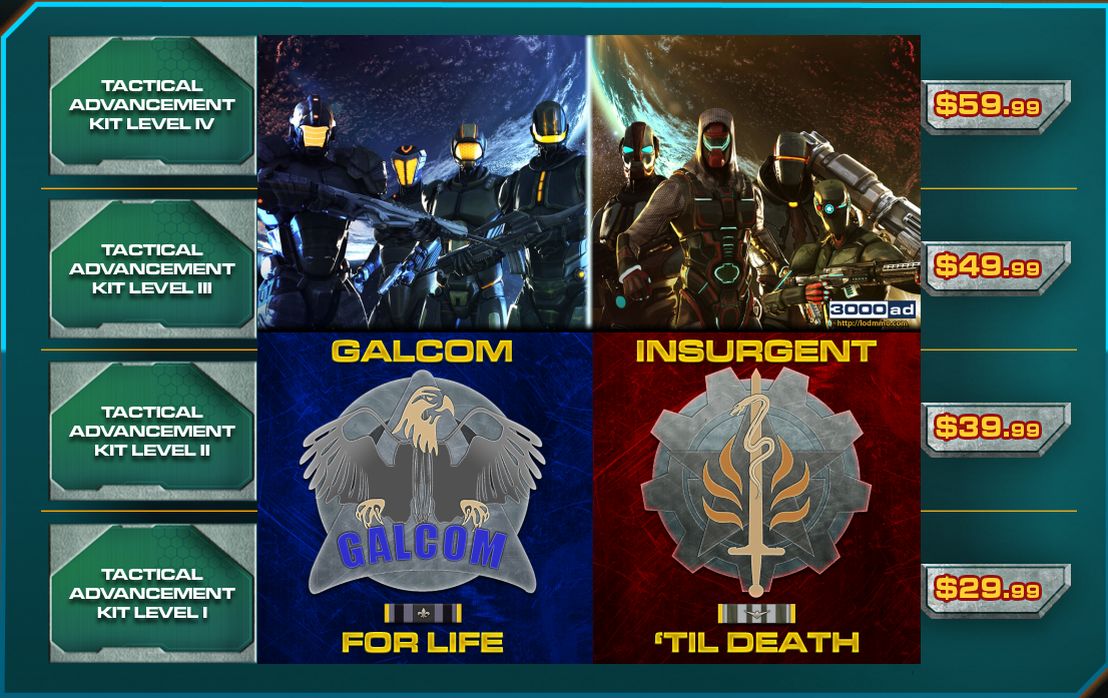 A Tactical Advancement Kit is an optional package which has various item bundles and perks not present in the Starter Kit.
In addition to having several benefits, a TAK tier also comes bundled with various items. You can buy any TAK level you want. e.g. If you have TAK LIV, you could still buy TAK L1 if you wanted the M117 assault rifle. These are items you can also find in the game world for pickup.
During gameplay, you can also seek out items (e.g. jetpack, wingsuit/wingchute), ammo etc spawned at random from the various packs (Portable Supply Pack, Portable Weapon Pack, Portable Medical Pack) scattered around the environment (marked by light beacons).
Until account and feature restrictions are implemented, there will be no CTC restrictions on item usage. So for example, if you have a Starter Kit (it does not come with a jetpack), you can seek out a jetpack, wingsuit/wingchute, weapons etc in the various packs above and be able to use them.
Similarly, buying a game tier does not immediately guarantee access to the items not already implemented or unlocked in the game. For example, if you buy a TAK LIV and the GLE22 grenade launcher has not yet been unlocked, you won't be able to use it until it is unlocked later on during development.
Check the online dB for a description & stats of each item
BENEFITS
10 (4 male, 2 female) characters
Character slots (2, 4, 6, 8) based on TAK tier
Primary loadout slots (1, 2, 3, 4) based on TAK tier + custom loadout slots (2, 4, 6, 8) based on TAK tier
Can deploy from any scene (station, carrier, planet)
Leaderboard stats tracking
No Combat Experience Point cap
Can requisition all allowable assets (air/space craft, vehicles etc) at supply platform
Items picked up in the game world persist across regions
Can requisition androids (e.g. to join Fireteam or squad) at supply platform
Can create fireteam
Can create squad
Can create Forward Operating Base
SP911 pistol
TL22 assault rifle
GLE22 grenade launcher
Energy Lance CL2
Wristlaser CL1
AMMO: MAG_P3 x4, MAG_AR2 x4, MAG_AR4 x4
ENERGYCELL40 x2
WLAPG grenade x2
Flash grenade x2
Plasma grenade x2
Zoom Scope 1 attachment
Night Optics 2 attachment
Wingsuit/Wingchute
Armor CL4
Jetpack MK2
Portable Shield Unit
MEDKIT25 x2
MEDKIT40 x2
CTC: Basic Weapons Proficiency
CTC: Light Weapons Training
CTC: Advanced Weapons Training
CTC: Beam Weapons Training
CTC: Item Training
CTC: Wingsuit Training
CTC: Jetpack Training
CTC: Ground Vehicle Training
CTC: Ground Vehicle Proficiency
CTC: Ground Vehicle Expertise
CTC: MICE Class License
CTC: Light Fighter Class License
CTC: Medium Fighter Class License
CTC: Heavy Fighter Class License
CTC: Super Fighter Class License
CTC: Class A Gunship License
SCAT2 pistol
MK330 machine gun
Energy Lance CL1
AMMO: MAG_P2 x4, MAG_P4 x3, MAG_MG1 x4
ENERGYCELL40 x1
APG grenade x2
Flash grenade x2
Smoke grenade x2
Laser Marker 1 attachment
Armor CL3
Jetpack MK2
Portable Cloaking Unit
MEDKIT40 x1
CTC: Basic Weapons Proficiency
CTC: Heavy Weapons Training
CTC: Beam Weapons Training
CTC: Jetpack Training
CTC: Ground Vehicle Expertise
CTC: Heavy Fighter Class License
HK900 shotgun
DTR4A sniper rifle
Combat Knife Type 01
AMMO: MAG_SS2 x3, MAG_SR2 x3
ENERGYCELL25 x1
Proximity grenade x2
Armor CL2
Jetpack MK1
MEDKIT25 x2
CTC: Medium Weapons Training
CTC: Sniper Weapons Training
CTC: Jetpack Training
CTC: Ground Vehicle Proficiency
CTC: Medium Fighter Class License
SCAT1 pistol
FG45 assault rifle
AMMO: MAG_P1 x3, MAG_P4 x2, MAG_AR1 x3
ENERGYCELL15 x1
Armor CL1
Jetpack MK1
MEDKIT25 x1
CTC: Basic Weapons Training
CTC: Light Weapons Training
CTC: Jetpack Training
CTC: Ground Vehicle Training
CTC: Light Fighter Class License
Posted in: faq