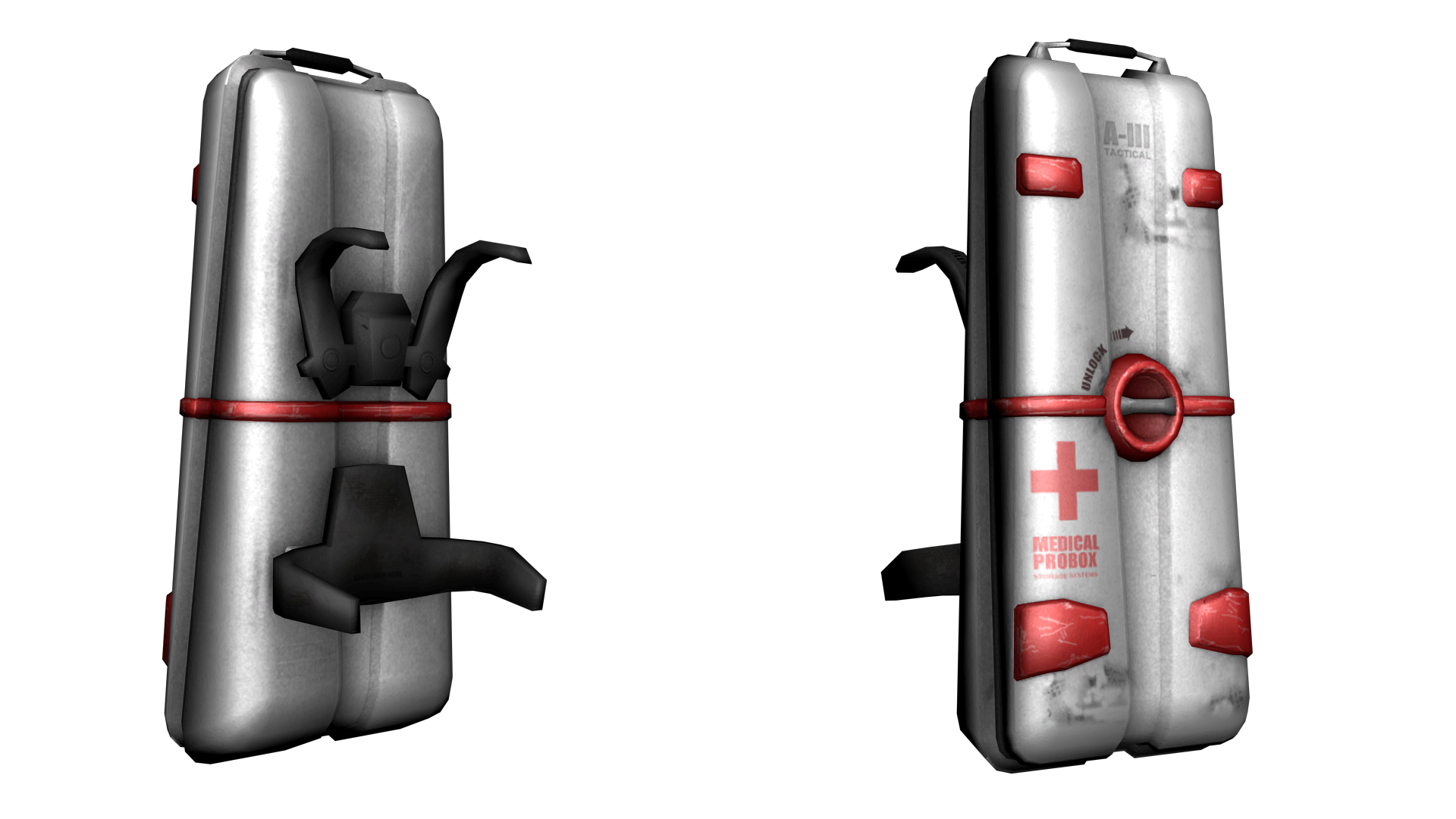 Portable Medical Pack
Inventory Item
Weight (kg): 15
These are like backpacks used for storage for MedKits only. As sold, each contains a total of 16 different MedKits.
They can be found in various places in the game world, and contain various types of MedKits.
Once spawned, they are marked by Red beacons. These beacons pulse when items are replenished in the pack.
To use, stand close to the item, then press and hold F to interact with it. The longer you hold the key, the more items you will get; up to the allowable limits of your inventory capacity.
Aircrafts
Androids
Carriers
Characters
Decorations
Defense Systems
Deployables
Infantry Gear
Infantry Weapons
Key Buildings
Ordnance
Other
Stations
Vehicles
World Map
| Name | Description | Category | Sub-Category |
| --- | --- | --- | --- |
| A9MAG | Machine Gun Continue reading → | Infantry Weapons | Machine Guns |
| AC-420 | Android Continue reading → | Androids | |
| ACAV | Ground Vehicle Continue reading → | Vehicles | |
| ACM | Mobile Missile System Continue reading → | Defense Systems | Missile System |
| Activate medium building | CEP Award Continue reading → | CEP | Key Unit CEP |
| Activate small building | CEP Award Continue reading → | CEP | Key Unit CEP |
| ADV | Mobile Missile System Continue reading → | Defense Systems | Missile System |
| Advanced Gunner License | Defenses Skill Ability to fire TALON artillery gun | CTC | |
| Advanced Programming Spec I | Infantry Improvement Skill Ability to use terminals | CTC | |
| Advanced Programming Spec II | Infantry Improvement Skill Ability to program ADJ, ADS, EWR, COMMS | CTC | |
| Advanced Programming Spec III | Infantry Improvement Skill Ability to program NUCLEAR PLANT, SOLAR PLANT | CTC | |
| Advanced Tactical Specialist | Infantry Improvement Skill Ability to operate and fire the MFB mounted ICBM. Requires ICBM Specialist CTC | CTC | |
| Advanced Weapons Training | Weapon Skill Ability to use GLE22 and HORNET | CTC | |
| AERIAL CAMPAIGN | Terran Insurgent Ribbon Continue reading → | Decorations | Ribbons - Insurgent |
| AERIAL WARFARE | Terran Military Ribbon Continue reading → | Decorations | Ribbons - Military |
| Aggressor | Attack Gunship Continue reading → | Aircrafts | Gunships |
| Android kill | CEP Award Continue reading → | CEP | Infantry CEP |
| APC | Ground Vehicle Continue reading → | Vehicles | |
| APG | Grenade Continue reading → | Infantry Weapons | Grenades |
| APL01 | All-Purpose-Laser Continue reading → | Ordnance | Laser |
| APL02 | All-Purpose-Laser Continue reading → | Ordnance | Laser |
| APL03 | All-Purpose-Laser Continue reading → | Ordnance | Laser |
| APL04 | All-Purpose-Laser Continue reading → | Ordnance | Laser |
| APM-RADIX | All-Purpose-Missile Continue reading → | Ordnance | Missile |
| APR-GLR | All-Purpose-Rocket Continue reading → | Ordnance | Rocket |
| APR-GPR | All-Purpose-Rocket Continue reading → | Ordnance | Rocket |
| APR-RALAR | All-Purpose-Rocket Continue reading → | Ordnance | Rocket |
| APS01 | All-Purpose-Shell Continue reading → | Ordnance | Projectile |
| APS02 | All-Purpose-Shell Continue reading → | Ordnance | Projectile |
| APS03 | All-Purpose-Shell Continue reading → | Ordnance | Projectile |
| APS04 | All-Purpose-Shell Continue reading → | Ordnance | Projectile |
| APS05 | All-Purpose-Shell Continue reading → | Ordnance | Projectile |
| Area Defense Jammer | Key Structure Continue reading → | Key Buildings | |
| Area Defense Shield | Key Structure Continue reading → | Key Buildings | |
| Arkangel | Starstation Continue reading → | Stations | |
| ARMOR-CL1 | Inventory Item Continue reading → | Infantry Gear | |
| ARMOR-CL2 | Inventory Item Continue reading → | Infantry Gear | |
| ARMOR-CL3 | Inventory Item Continue reading → | Infantry Gear | |
| ARMOR-CL4 | Inventory Item Continue reading → | Infantry Gear | |
| Assault Force Marine | Infantry Continue reading → | Characters | Terran Military |
| Asset Requisition Center | Key Structure Continue reading → | Key Buildings | |
| Assist in a kill | CEP Award Continue reading → | CEP | Infantry CEP |
| ATA-CLUSTER | Air-To-Air Missile Continue reading → | Ordnance | Missile |
| ATA-MAGELLAN | Air-To-Air Missile Continue reading → | Ordnance | Missile |
| ATA-MARINER | Air-To-Air Missile Continue reading → | Ordnance | Missile |
| ATA-PILGRIM | Air-To-Air Missile Continue reading → | Ordnance | Missile |
| ATA-SEEKER | Air-To-Air Missile Continue reading → | Ordnance | Missile |
| ATA-WARRIOR | Air-To-Air Missile Continue reading → | Ordnance | Missile |
| ATS-GAINER | Air-To-Surface Missile Continue reading → | Ordnance | Missile |
| ATS-HARPOON | Air-To-Surface Missile Continue reading → | Ordnance | Missile |
| ATS-HYPERDYNE | Air-To-Surface Missile Continue reading → | Ordnance | Missile |
| ATS-LYNX | Air-To-Surface Missile Continue reading → | Ordnance | Missile |
| ATS-MAVERICK | Air-To-Surface Missile Continue reading → | Ordnance | Missile |
| ATS-SPYDER | Air-To-Surface Missile Continue reading → | Ordnance | Missile |
| ATV | Ground Vehicle Continue reading → | Vehicles | |
| Aurora | Medium Fighter Continue reading → | Aircrafts | Fighters |
| AWARD FOR BRAVERY | Terran Insurgent Medal Continue reading → | Decorations | Medals - Insurgent |
| AWARD FOR DISTINCTION | Terran Insurgent Ribbon Continue reading → | Decorations | Ribbons - Insurgent |
| AWARD FOR GALLANTRY | Terran Military Medal Continue reading → | Decorations | Medals - Military |
| AX10 | Missile System Continue reading → | Defense Systems | Missile System |
| AX21 | Missile System Continue reading → | Defense Systems | Missile System |
| AX25 | Missile System Continue reading → | Defense Systems | Missile System |
| Backpack-CL1 | Inventory Item Continue reading → | Infantry Gear | |
| Backpack-CL2 | Inventory Item Continue reading → | Infantry Gear | |
| Basic Weapons Proficiency | Weapon Skill Ability to use SCAT2, SP911 and T73P | CTC | |
| Basic Weapons Training | Weapon Skill Ability to use M310 and SCAT1. | CTC | |
| Beam Weapons Training | Weapon Skill Ability to use Energy Lance and WristLaser | CTC | |
| BEHIND ENEMY LINES | Terran Insurgent Ribbon Continue reading → | Decorations | Ribbons - Insurgent |
| Bio-Alert | Neural Implant Continue reading → | Infantry Gear | Implant |
| Bio-Fish | Neural Implant Continue reading → | Infantry Gear | Implant |
| Bio-Inhuman | Neural Implant Continue reading → | Infantry Gear | Implant |
| Bio-Injector | Inventory Item Continue reading → | Infantry Gear | Implant |
| Bio-Jump | Neural Implant Continue reading → | Infantry Gear | Implant |
| Bio-Pain | Neural Implant Continue reading → | Infantry Gear | Implant |
| Bio-Quick | Neural Implant Continue reading → | Infantry Gear | Implant |
| Bio-Sense | Neural Implant Continue reading → | Infantry Gear | Implant |
| Bio-Teleport | Neural Implant Continue reading → | Infantry Gear | Implant |
| Bio-View | Neural Implant Continue reading → | Infantry Gear | Implant |
| Bio-Warp | Neural Implant Continue reading → | Infantry Gear | Implant |
| Blackghost | Assault Gunship Continue reading → | Aircrafts | Gunships |
| Bloodhound | Turret Continue reading → | Deployables | |
| BMP9 | Sniper Rifle Continue reading → | Infantry Weapons | Sniper Rifles |
| BRONZE STAR | Terran Military Ribbon Continue reading → | Decorations | Ribbons - Military |
| CAB MK1 | Ground Vehicle Continue reading → | Vehicles | |
| CAB MK2 | Ground Vehicle Continue reading → | Vehicles | |
| CAMPAIGN MERIT | Terran Military Ribbon Continue reading → | Decorations | Ribbons - Military |
| Catalyst | Turret Continue reading → | Deployables | |
| CAV | Ground vehicle Continue reading → | Vehicles | |
| CHAINS OF FREEDOM | Terran Insurgent Medal Continue reading → | Decorations | Medals - Insurgent |
| Class A Gunship License | Aircraft Skill Ability to pilot PHANTOM, AGGRESSOR, RAPIER and INTERDICTOR | CTC | |
| Class A Naval Vehicle Training | Naval Vehicle Skill Ability to pilot X716G | CTC | |
| Class B Gunship License | Aircraft Skill Ability to pilot BLACKGHOST, INTRUDER and SHADOW | CTC | |
| Class B Naval Vehicle Training | Naval Vehicle Skill Ability to pilot M-23L | CTC | |
| COMBAT DUTY | Terran Insurgent Ribbon Continue reading → | Decorations | Ribbons - Insurgent |
| Combat Knife | Melee Weapon Continue reading → | Infantry Weapons | Other |
| Combat Medic Expertise | Infantry Improvement Skill Increase rate the PMU restores health by 50% | CTC | |
| Combat Medic Proficiency | Infantry Improvement Skill Increase rate the PMU restores health by 33% | CTC | |
| Combat Medic Training | Infantry Improvement Skill Increase rate the PMU restores health by 16% | CTC | |
| COMBAT OPERATIONS | Terran Insurgent Medal Continue reading → | Decorations | Medals - Insurgent |
| COMBAT SERVICES | Terran Military Ribbon Continue reading → | Decorations | Ribbons - Military |
| COMBAT SHIELD | Terran Military Medal Continue reading → | Decorations | Medals - Military |
| Command & Control | Key Structure Continue reading → | Key Buildings | |
| Command Base Operations Proficiency | Buildings Skill Ability to activate SOLAR PLANT, NUCLEAR PLANT, COMMS, and Starbases | CTC | |
| COMMAND SERGEANT | Terran Military Rank Continue reading → | Decorations | Ranks |
| COMMANDER | Terran Military Rank Continue reading → | Decorations | Ranks |
| COMMANDER CL1 | Terran Insurgent Rank Continue reading → | Decorations | Ranks |
| COMMANDER CL2 | Terran Insurgent Rank Continue reading → | Decorations | Ranks |
| COMMANDER CL3 | Terran Insurgent Rank Continue reading → | Decorations | Ranks |
| COMMANDERS SHIELD | Terran Military Medal Continue reading → | Decorations | Medals - Military |
| Comms Array | Key Structure Continue reading → | Key Buildings | |
| Complete entire mission successfully | CEP Award Continue reading → | CEP | Infantry CEP |
| Complete specific mission objective | CEP Award Continue reading → | CEP | Infantry CEP |
| CORPORAL | Terran Military Rank Continue reading → | Decorations | Ranks |
| Corsair | Heavy Fighter Continue reading → | Aircrafts | Fighters |
| CQC Expertise | Infantry Improvement Skill Increase damage with melee and throwing knife attacks by 150% | CTC | |
| CQC Proficiency | Infantry Improvement Skill Increase damage with melee and throwing knife attacks by 100% | CTC | |
| CQC Training | Infantry Improvement Skill Increase damage with melee and throwing knife attacks by 50% | CTC | |
| Critical kill | CEP Award Continue reading → | CEP | Infantry CEP |
| DEFENSE SUPERIOR SERVICES | Terran Military Ribbon Continue reading → | Decorations | Ribbons - Military |
| Destroy android | CEP Award Continue reading → | CEP | Inventory CEP |
| Destroy attack gunship | CEP Award Continue reading → | CEP | Aircraft CEP |
| Destroy deployables | CEP Award Continue reading → | CEP | Inventory CEP |
| Destroy ground defense gun turret unit – fixed | CEP Award Continue reading → | CEP | Defense System CEP |
| Destroy ground defense gun turret unit – mobile | CEP Award Continue reading → | CEP | Defense System CEP |
| Destroy ground defense missile turret unit – fixed | CEP Award Continue reading → | CEP | Defense System CEP |
| Destroy ground defense missile turret unit – mobile | CEP Award Continue reading → | CEP | Defense System CEP |
| Destroy ground vehicle – APC | CEP Award Continue reading → | CEP | Ground Vehicle CEP |
| Destroy ground vehicle – generic | CEP Award Continue reading → | CEP | Ground Vehicle CEP |
| Destroy ground vehicle – HAV | CEP Award Continue reading → | CEP | Ground Vehicle CEP |
| Destroy ground vehicle – MFB | CEP Award Continue reading → | CEP | Ground Vehicle CEP |
| Destroy ground vehicle – MICE | CEP Award Continue reading → | CEP | Ground Vehicle CEP |
| Destroy ground vehicle – tank | CEP Award Continue reading → | CEP | Ground Vehicle CEP |
| Destroy heavy fighter | CEP Award Continue reading → | CEP | Aircraft CEP |
| Destroy large building | CEP Award Continue reading → | CEP | Key Unit CEP |
| Destroy light fighter | CEP Award Continue reading → | CEP | Aircraft CEP |
| Destroy light gunship | CEP Award Continue reading → | CEP | Aircraft CEP |
| Destroy medium building | CEP Award Continue reading → | CEP | Key Unit CEP |
| Destroy medium fighter | CEP Award Continue reading → | CEP | Aircraft CEP |
| Destroy mission specific target | CEP Award Continue reading → | CEP | Infantry CEP |
| Destroy naval vehicle | CEP Award Continue reading → | CEP | Naval Vehicle CEP |
| Destroy small building | CEP Award Continue reading → | CEP | Key Unit CEP |
| Destroy super fighter | CEP Award Continue reading → | CEP | Aircraft CEP |
| Destroy transport shuttle | CEP Award Continue reading → | CEP | Aircraft CEP |
| Disable aircraft | CEP Award Continue reading → | CEP | Aircraft CEP |
| Disable ground vehicle | CEP Award Continue reading → | CEP | Ground Vehicle CEP |
| Disable mines | CEP Award Continue reading → | CEP | Inventory CEP |
| Disable naval vehicle | CEP Award Continue reading → | CEP | Naval Vehicle CEP |
| DISTINGUISHED SERVICES | Terran Military Ribbon Continue reading → | Decorations | Ribbons - Military |
| DJP | Infantry Teleportation Continue reading → | Other | |
| DT-489 | Android Continue reading → | Androids | |
| DTR4A | Sniper Rifle Continue reading → | Infantry Weapons | Sniper Rifles |
| DUC01 | Projectile Continue reading → | Ordnance | Ammo |
| DUC02 | Projectile Continue reading → | Ordnance | Ammo |
| DUC03 | Projectile Continue reading → | Ordnance | Ammo |
| DUC04 | Projectile Continue reading → | Ordnance | Ammo |
| DUC05 | Projectile Continue reading → | Ordnance | Ammo |
| DUPE01 | Projectile Continue reading → | Ordnance | Ammo |
| DUPE02 | Projectile Continue reading → | Ordnance | Ammo |
| DUPE03 | Projectile Continue reading → | Ordnance | Ammo |
| DUPE04 | Projectile Continue reading → | Ordnance | Ammo |
| Early Warning Radar | Key Structure Continue reading → | Key Buildings | |
| ECELL | Energy Cell Continue reading → | Ordnance | Ammo |
| Elite Force Marine | Infantry Continue reading → | Characters | Terran Military |
| Elite Force Pilot | Infantry Continue reading → | Characters | Terran Military |
| Elite Force Pilot (female) | Infantry Continue reading → | Characters | Terran Military |
| ELITE ORDER OF WAR | Terran Insurgent Ribbon Continue reading → | Decorations | Ribbons - Insurgent |
| EMPG | Grenade Continue reading → | Infantry Weapons | Grenades |
| ENERGY CELL | Inventory Item Continue reading → | Infantry Gear | Other |
| Energy Lance | Melee Weapon Continue reading → | Infantry Weapons | Other |
| ENGINEERING CORPS | Terran Military Ribbon Continue reading → | Decorations | Ribbons - Military |
| Engineering Spec I | Infantry Improvement Skill Increase rate the PRU restores health by 15% | CTC | |
| Engineering Spec II | Infantry Improvement Skill Increase rate the PRU restores health by 30% | CTC | |
| Engineering Spec III | Infantry Improvement Skill Increase rate the PRU restores health by 45% | CTC | |
| ENGINEERING STAR | Terran Insurgent Ribbon Continue reading → | Decorations | Ribbons - Insurgent |
| ENSIGN | Terran Military Rank Continue reading → | Decorations | Ranks |
| EXCEPTIONAL SERVICE | Terran Insurgent Ribbon Continue reading → | Decorations | Ribbons - Insurgent |
| EXPEDITIONARY CROSS | Terran Military Ribbon Continue reading → | Decorations | Ribbons - Military |
| EYE OF ANDROMEDA | Terran Military Medal Continue reading → | Decorations | Medals - Military |
| FG45 | Assault Rifle Continue reading → | Infantry Weapons | Rifles |
| Flash | Grenade Continue reading → | Infantry Weapons | Grenades |
| Frag | Grenade Continue reading → | Infantry Weapons | Grenades |
| Friendly fire kill (critical) | CEP Reduction Continue reading → | CEP | Infantry CEP |
| Friendly fire kill (melee) | CEP Reduction Continue reading → | CEP | Infantry CEP |
| Friendly fire kill (ranged) | CEP Reduction Continue reading → | CEP | Infantry CEP |
| GDN4 | Missile System Continue reading → | Defense Systems | Missile System |
| GENERAL CL1 | Terran Insurgent Rank Continue reading → | Decorations | Ranks |
| GENERAL CL2 | Terran Insurgent Rank Continue reading → | Decorations | Ranks |
| GENERAL CL3 | Terran Insurgent Rank Continue reading → | Decorations | Ranks |
| GENERAL SPEC 1 | Terran Military Rank Continue reading → | Decorations | Ranks |
| GENERAL SPEC 2 | Terran Military Rank Continue reading → | Decorations | Ranks |
| GENERAL SPEC 3 | Terran Military Rank Continue reading → | Decorations | Ranks |
| GENERAL SPEC A | Terran Military Rank Continue reading → | Decorations | Ranks |
| GENERAL SPEC B | Terran Military Rank Continue reading → | Decorations | Ranks |
| GENERAL SPEC C | Terran Military Rank Continue reading → | Decorations | Ranks |
| Get hit by HID | CEP Reduction Continue reading → | CEP | Infantry CEP |
| GLE22 | Grenade Launcher Continue reading → | Infantry Weapons | Launchers |
| GOLD LAURELS | Terran Insurgent Ribbon Continue reading → | Decorations | Ribbons - Insurgent |
| GOLD STAR | Terran Insurgent Ribbon Continue reading → | Decorations | Ribbons - Insurgent |
| GPMG | Machine Gun Continue reading → | Infantry Weapons | Machine Guns |
| Grazer | Orbital Defense System Continue reading → | Defense Systems | Missile System |
| Grenade Launcher T1 | Weapon Attachment Continue reading → | Infantry Weapons | Weapon Attachments |
| Grenade Launcher T2 | Weapon Attachment Continue reading → | Infantry Weapons | Weapon Attachments |
| GROUND CAMPAIGN | Terran Insurgent Ribbon Continue reading → | Decorations | Ribbons - Insurgent |
| Ground Vehicle Expertise | Ground Vehicle Skill Ability to drive APC and ATV | CTC | |
| Ground Vehicle Proficiency | Ground Vehicle Skill Ability to drive ACAV, CAB, and UAV | CTC | |
| Ground Vehicle Training | Ground Vehicle Skill Ability to drive CAV, TAB and TABMX2 | CTC | |
| GROUND WARFARE | Terran Military Ribbon Continue reading → | Decorations | Ribbons - Military |
| HAIS Training | Inventory Skill Ability to use HAIS | CTC | |
| HAIS-MK1 | Inventory Item Continue reading → | Infantry Gear | |
| HAIS-MK2 | Inventory Item Continue reading → | Infantry Gear | |
| Hanger | Key Structure Continue reading → | Key Buildings | |
| Harvesting Proficiency | Buildings Skill Increases Radine crystal carrying capacity by 25. | CTC | |
| Harvesting Training | Buildings Skill Increases Radine crystal carrying capacity by 10. | CTC | |
| HAV | Ground Vehicle Continue reading → | Vehicles | |
| HAV Class License | Ground Vehicle Skill Ability to drive HAV | CTC | |
| HD4SG | Shotgun Continue reading → | Infantry Weapons | Shotguns |
| Heal ally | CEP Award Continue reading → | CEP | Infantry CEP |
| Heal self | CEP Award Continue reading → | CEP | Infantry CEP |
| Heavy Fighter Class License | Aircraft Skill Ability to pilot ICMK1, ICMK2, CORSAIR and STARDRONE | CTC | |
| Heavy Weapons Proficiency | Weapon Skill Ability to use PX42, SAW911 and GPMG | CTC | |
| Heavy Weapons Training | Weapon Skill Ability to use A9MAG and MK330 | CTC | |
| HID | Other Weapon Continue reading → | Infantry Weapons | Other |
| Hit enemy with HID | CEP Award Continue reading → | CEP | Infantry CEP |
| HK900 | Shotgun Continue reading → | Infantry Weapons | Shotguns |
| Home Security Proficiency | Buildings Skill Ability to activate ADS, ADJ and EWR | CTC | |
| Hornet | Rocket Launcher Continue reading → | Infantry Weapons | Launchers |
| HUMANITARIAN AWARD | Terran Insurgent Ribbon Continue reading → | Decorations | Ribbons - Insurgent |
| HVC01 | High Velocity Cartridge Continue reading → | Ordnance | Projectile |
| HVC02 | High Velocity Cartridge Continue reading → | Ordnance | Projectile |
| ICBM | Intercontinental Ballistic Missile Continue reading → | Ordnance | Missile |
| ICBM Launch Operator | Infantry Improvement Skill Ability to operate and fire the MFB mounted ICBM. Requires Advanced Tactical Specialist CTC | CTC | |
| Implant Augmentation Chamber | Neural Implant Installation Continue reading → | Other | |
| Implant Expertise | Infantry Improvement Skill Increase the number of Neural Implants that can be active at once by two | CTC | |
| Implant Proficiency | Infantry Improvement Skill Increase the number of Neural Implants that can be active at once by one | CTC | |
| Insurgent Commander | Infantry Continue reading → | Characters | Terran Insurgent |
| Insurgent Heavy | Infantry Continue reading → | Characters | Terran Insurgent |
| Insurgent Infantry | Infantry Continue reading → | Characters | Terran Insurgent |
| Insurgent Sniper | Infantry Continue reading → | Characters | Terran Insurgent |
| Insurgent Sniper (female) | Infantry Continue reading → | Characters | Terran Insurgent |
| Interceptor MK1 | Heavy Fighter Continue reading → | Aircrafts | Fighters |
| Interceptor MK2 | Heavy Fighter Continue reading → | Aircrafts | Fighters |
| Interdictor | Attack Gunship Continue reading → | Aircrafts | Gunships |
| Intruder | Assault Gunship Continue reading → | Aircrafts | Gunships |
| Item Proficiency | Inventory Skill Ability to use PMS, PSJ, PSU, PTU and TWS | CTC | |
| Item Training | Inventory Skill Ability to use PBU, PCU, PIE, TDU and WDU | CTC | |
| J334B | Grenade Launcher Continue reading → | Infantry Weapons | Launchers |
| Jetpack Training | Inventory Skill Ability to use Jetpacks | CTC | |
| Jetpack-MK1 | Inventory Item Continue reading → | Infantry Gear | |
| Jetpack-MK1B | Commander Perk Continue reading → | Infantry Gear | |
| Jetpack-MK2 | Inventory Item Continue reading → | Infantry Gear | |
| Jetpack-MK2B | Inventory Item Continue reading → | Infantry Gear | |
| Jumpgate | Aircraft Teleportation Continue reading → | Other | |
| K19XZ | Shuttle Continue reading → | Aircrafts | Shuttles |
| Kill infantry person (melee) | CEP Award Continue reading → | CEP | Infantry CEP |
| Kill infantry person (multiple) | CEP Award Continue reading → | CEP | Infantry CEP |
| Kill Infantry Person (ranged) | CEP Award Continue reading → | CEP | Infantry CEP |
| KLMP | Rocket Launcher Continue reading → | Infantry Weapons | Launchers |
| LAD MK1 | Turret Continue reading → | Deployables | |
| LAD MK2 | Turret Continue reading → | Deployables | |
| LANCE CORPORAL | Terran Military Rank Continue reading → | Decorations | Ranks |
| Laser Marker | Weapon Attachment Continue reading → | Infantry Weapons | Weapon Attachments |
| Launchpad 01 | Key Structure Continue reading → | Key Buildings | |
| Launchpad 02 | Key Structure Continue reading → | Key Buildings | |
| Leech | Mine Continue reading → | Infantry Weapons | Mines |
| LIEUTENANT | Terran Military Rank Continue reading → | Decorations | Ranks |
| LIFE SAVING AWARD | Terran Military Ribbon Continue reading → | Decorations | Ribbons - Military |
| Light Fighter Class License | Aircraft Skill Ability to pilot STARMONK and ZODIAC | CTC | |
| Light Weapons Proficiency | Weapon Skill Ability to use XN32, ZS10 and ZS12 | CTC | |
| Light Weapons Training | Weapon Skill Ability to use FG45, M117, and TL22 | CTC | |
| Limpet | Mine Continue reading → | Infantry Weapons | Mines |
| LR12 | Rocket Launcher Continue reading → | Infantry Weapons | Launchers |
| LT. COMMANDER | Terran Military Rank Continue reading → | Decorations | Ranks |
| LYRIUS CAMPAIGN | Terran Military Ribbon Continue reading → | Decorations | Ribbons - Military |
| M-23L | Naval Vehicle Continue reading → | Vehicles | |
| M117 | Assault Rifle Continue reading → | Infantry Weapons | Rifles |
| M310 | Pistol Continue reading → | Infantry Weapons | Pistols |
| MAG-APR | Ammo Mag Continue reading → | Ordnance | Ammo Mag |
| MAG-AR1 | Ammo Mag Continue reading → | Ordnance | Ammo Mag |
| MAG-AR2 | Ammo Mag Continue reading → | Ordnance | Ammo Mag |
| MAG-AR3 | Ammo Mag Continue reading → | Ordnance | Ammo Mag |
| MAG-AR4 | Ammo Mag Continue reading → | Ordnance | Ammo Mag |
| MAG-HID | Ammo Mag Continue reading → | Ordnance | Ammo Mag |
| MAG-HVC1 | Ammo Mag Continue reading → | Ordnance | Ammo Mag |
| MAG-HVC2 | Ammo Mag Continue reading → | Ordnance | Ammo Mag |
| MAG-MG1 | Ammo Mag Continue reading → | Ordnance | Ammo Mag |
| MAG-MG2 | Ammo Mag Continue reading → | Ordnance | Ammo Mag |
| MAG-P1 | Ammo Mag Continue reading → | Ordnance | Ammo Mag |
| MAG-P2 | Ammo Mag Continue reading → | Ordnance | Ammo Mag |
| MAG-P3 | Ammo Mag Continue reading → | Ordnance | Ammo Mag |
| MAG-P4 | Ammo Mag Continue reading → | Ordnance | Ammo Mag |
| MAG-RKT1 | Ammo Mag Continue reading → | Ordnance | Ammo Mag |
| MAG-RKT2 | Ammo Mag Continue reading → | Ordnance | Ammo Mag |
| MAG-RKT3 | Ammo Mag Continue reading → | Ordnance | Ammo Mag |
| MAG-SR1 | Ammo Mag Continue reading → | Ordnance | Ammo Mag |
| MAG-SR2 | Ammo Mag Continue reading → | Ordnance | Ammo Mag |
| MAG-SR3 | Ammo Mag Continue reading → | Ordnance | Ammo Mag |
| MAG-SR4 | Ammo Mag Continue reading → | Ordnance | Ammo Mag |
| MAG-SS1 | Ammo Mag Continue reading → | Ordnance | Ammo Mag |
| MAG-SS2 | Ammo Mag Continue reading → | Ordnance | Ammo Mag |
| MAJOR | Terran Military Rank Continue reading → | Decorations | Ranks |
| MAN OF VALOR | Terran Insurgent Medal Continue reading → | Decorations | Medals - Insurgent |
| Mantis | Medium Fighter Continue reading → | Aircrafts | Fighters |
| MAYHEM | Ground Vehicle Continue reading → | Vehicles | |
| Medium Fighter Class License | Aircraft Skill Ability to pilot AURORA, MANTIS, and STARLANCE | CTC | |
| Medium Weapons Proficiency | Weapon Skill Ability to use RT41 and TKR12 | CTC | |
| Medium Weapons Training | Weapon Skill Ability to use HD4SG and HK900 | CTC | |
| MedKit | Inventory Item Continue reading → | Infantry Gear | |
| MFB | Ground Vehicle Continue reading → | Vehicles | |
| MFB License | Ground Vehicle Skill Ability to drive MFB | CTC | |
| MICE Class License | Ground Vehicle Skill Ability to use MICE-MK1 and MICE-MK2 | CTC | |
| MICE MK1 | Combat Exoframe Continue reading → | Vehicles | |
| MICE MK2 | Combat Exoframe Continue reading → | Vehicles | |
| Mine Proficiency | Weapon Skill Ability to use NUCSTAR Mines | CTC | |
| Mine Training | Weapon Skill Ability to lay LIMPET and LEECH Mines | CTC | |
| MK1D | Turret System Continue reading → | Defense Systems | Turret System |
| MK1P | Mobile Turret System Continue reading → | Defense Systems | Turret System |
| MK2D | Turret System Continue reading → | Defense Systems | Turret System |
| MK2P | Mobile Turret System Continue reading → | Defense Systems | Turret System |
| MK330 | Machine Gun Continue reading → | Infantry Weapons | Machine Guns |
| MK3P | Turret System Continue reading → | Defense Systems | Turret System |
| Mobile Defense Driving License | Defenses Skill Ability to drive TSX1, TSX2, ACM, ADV, MK1P, MK2P and XP10 | CTC | |
| Mobile Defense Gunner License | Defenses Skill Ability to fire TSX1, TSX2, ACM, ADV, MK1P, MK2P and XP10 | CTC | |
| Mobile Infantry Marine | Infantry Continue reading → | Characters | Terran Military |
| NAVAL CAMPAIGN | Terran Insurgent Ribbon Continue reading → | Decorations | Ribbons - Insurgent |
| NAVAL WARFARE | Terran Military Ribbon Continue reading → | Decorations | Ribbons - Military |
| NE-318 | Android Continue reading → | Androids | |
| Netstar | Orbital Defense System Continue reading → | Defense Systems | Missile System |
| Night Optics T1 | Weapon Attachment Continue reading → | Infantry Weapons | Weapon Attachments |
| Night Optics T2 | Weapon Attachment Continue reading → | Infantry Weapons | Weapon Attachments |
| Nuclear Plant | Key Structure Continue reading → | Key Buildings | |
| Nucstar | Mine Continue reading → | Infantry Weapons | Mines |
| NV Scope AR1 | Weapon Attachment Continue reading → | Infantry Weapons | Weapon Attachments |
| NV Scope AR2 | Weapon Attachment Continue reading → | Infantry Weapons | Weapon Attachments |
| NV Scope P1 | Weapon Attachment Continue reading → | Infantry Weapons | Weapon Attachments |
| NV Scope SR1 | Weapon Attachment Continue reading → | Infantry Weapons | Weapon Attachments |
| NV Scope SR2 | Weapon Attachment Continue reading → | Infantry Weapons | Weapon Attachments |
| NV Scope SR3 | Weapon Attachment Continue reading → | Infantry Weapons | Weapon Attachments |
| NV Scope SR4 | Weapon Attachment Continue reading → | Infantry Weapons | Weapon Attachments |
| ORDER OF THE CAUSE | Terran Insurgent Medal Continue reading → | Decorations | Medals - Insurgent |
| ORDER OF THE PHOENIX | Terran Insurgent Ribbon Continue reading → | Decorations | Ribbons - Insurgent |
| ORDER OF THE UNIVERSE | Terran Military Medal Continue reading → | Decorations | Medals - Military |
| ORDER OF THE WRAITH | Terran Military Medal Continue reading → | Decorations | Medals - Military |
| Overwatch | Starstation Continue reading → | Stations | |
| Phantom | Attack Gunship Continue reading → | Aircrafts | Gunships |
| PHOENIX RISING | Terran Insurgent Medal Continue reading → | Decorations | Medals - Insurgent |
| PL12 | Sniper Rifle Continue reading → | Infantry Weapons | Sniper Rifles |
| PLANETARY SHIELD | Terran Military Medal Continue reading → | Decorations | Medals - Military |
| Plasma | Grenade Continue reading → | Infantry Weapons | Grenades |
| Portable Breathing Unit | Inventory Item Continue reading → | Infantry Gear | |
| Portable Cloaking Unit | Inventory Item Continue reading → | Infantry Gear | |
| Portable Image Enhancer | Inventory Item Continue reading → | Infantry Gear | |
| Portable Medical Pack | Inventory Item Continue reading → | Infantry Gear | |
| Portable Medical Unit | Inventory Item Continue reading → | Infantry Gear | |
| Portable Motion Sensor | Inventory Item Continue reading → | Infantry Gear | |
| Portable Repair Unit | Inventory Item Continue reading → | Infantry Gear | |
| Portable Sensor Jammer | Inventory Item Continue reading → | Infantry Gear | |
| Portable Shield Unit | Inventory Item Continue reading → | Infantry Gear | |
| Portable Supply Pack | Commander Perk Continue reading → | Infantry Gear | |
| Portable Teleport Unit | Inventory Item Continue reading → | Infantry Gear | |
| Portable Weapon Pack | Inventory Item Continue reading → | Infantry Gear | |
| PRIVATE | Terran Military Rank Continue reading → | Decorations | Ranks |
| PRIVATE CL1 | Terran Insurgent Rank Continue reading → | Decorations | Ranks |
| PRIVATE CL2 | Terran Insurgent Rank Continue reading → | Decorations | Ranks |
| Probe | Communications Link Continue reading → | Other | |
| Protection Proficiency | Infantry Improvement Skill Increase the capacity of the shield created by the player's PSU by 50%. | CTC | |
| Proximity | Grenade Continue reading → | Infantry Weapons | Grenades |
| PURPLE HEART | Terran Military Ribbon Continue reading → | Decorations | Ribbons - Military |
| PX42 | Machine Gun Continue reading → | Infantry Weapons | Machine Guns |
| Rapier | Attack Gunship Continue reading → | Aircrafts | Gunships |
| Raven | Super Fighter Continue reading → | Aircrafts | Fighters |
| Rearm aircraft | CEP Award Continue reading → | CEP | Aircraft CEP |
| Rearm ground vehicle | CEP Award Continue reading → | CEP | Ground Vehicle CEP |
| Rearm naval vehicle | CEP Award Continue reading → | CEP | Naval Vehicle CEP |
| Rearm turret | CEP Award Continue reading → | CEP | Defense System CEP |
| Remote Access Pad | Inventory Item Continue reading → | Infantry Gear | |
| Repair a ground vehicle | CEP Award Continue reading → | CEP | Ground Vehicle CEP |
| Repair aircraft | CEP Award Continue reading → | CEP | Aircraft CEP |
| Repair naval vehicle | CEP Award Continue reading → | CEP | Naval Vehicle CEP |
| Repair turret | CEP Award Continue reading → | CEP | Defense System CEP |
| ROCKET01 | Rocket Continue reading → | Ordnance | Rocket |
| ROCKET02 | Rocket Continue reading → | Ordnance | Rocket |
| ROCKET03 | Rocket Continue reading → | Ordnance | Rocket |
| RT41 | Shotgun Continue reading → | Infantry Weapons | Shotguns |
| S779 | Sniper Rifle Continue reading → | Infantry Weapons | Sniper Rifles |
| SAM-ACM | Surface-To-Air Missile Continue reading → | Ordnance | Missile |
| SAM-ADV | Surface-To-Air Missile Continue reading → | Ordnance | Missile |
| SAM-AX10 | Surface-To-Air Missile Continue reading → | Ordnance | Missile |
| SAM-AX21 | Surface-To-Air Missile Continue reading → | Ordnance | Missile |
| SAM-AX25 | Surface-To-Air Missile Continue reading → | Ordnance | Missile |
| SAM-GDN4 | Surface-To-Air Missile Continue reading → | Ordnance | Missile |
| SAM-TSX1 | Surface-To-Air Missile Continue reading → | Ordnance | Missile |
| SAM-TSX2 | Surface-To-Air Missile Continue reading → | Ordnance | Missile |
| Satellite | Communications Relay Continue reading → | Other | |
| SAW911 | Machine Gun Continue reading → | Infantry Weapons | Machine Guns |
| SC490 | Shuttle Continue reading → | Aircrafts | Shuttles |
| SCAT1 | Pistol Continue reading → | Infantry Weapons | Pistols |
| SCAT2 | Pistol Continue reading → | Infantry Weapons | Pistols |
| SDM-DROGUE | Space-Defense-Missile Continue reading → | Ordnance | Missile |
| SDM-PACER | Space-Defense-Missile Continue reading → | Ordnance | Missile |
| SDM-PIRANHA | Space-Defense-Missile Continue reading → | Ordnance | Missile |
| SDM-PRAXIS | Space-Defense-Missile Continue reading → | Ordnance | Missile |
| SDM-SLAVE | Space-Defense-Missile Continue reading → | Ordnance | Missile |
| SDM-STARSTORM | Space-Defense-Missile Continue reading → | Ordnance | Missile |
| SDM-WIDOW | Space-Defense-Missile Continue reading → | Ordnance | Missile |
| Sentient Programming | Inventory Skill Ability to command/use VT-112, NE-318 and AC-420 | CTC | |
| SERGEANT | Terran Military Rank Continue reading → | Decorations | Ranks |
| SERVICE CROSS | Terran Military Ribbon Continue reading → | Decorations | Ribbons - Military |
| Shadow | Assault Gunship Continue reading → | Aircrafts | Gunships |
| SHIELD OF HONOR | Terran Insurgent Medal Continue reading → | Decorations | Medals - Insurgent |
| Shot Tracer T1 | Weapon Attachment Continue reading → | Infantry Weapons | Weapon Attachments |
| Shot Tracer T2 | Weapon Attachment Continue reading → | Infantry Weapons | Weapon Attachments |
| Shuttle Class License | Aircraft Skill Ability to pilot SC490 and K19XZ | CTC | |
| Silencer MK1 | Weapon Attachment Continue reading → | Infantry Weapons | Weapon Attachments |
| Silencer MK2 | Weapon Attachment Continue reading → | Infantry Weapons | Weapon Attachments |
| SLS01 | Standard-Laser-Shot Continue reading → | Ordnance | Ammo |
| SLS02 | Standard-Laser-Shot Continue reading → | Ordnance | Ammo |
| Smoke | Grenade Continue reading → | Infantry Weapons | Grenades |
| Sniper Weapons Proficiency | Weapon Skill Ability to use PL12 and S779 | CTC | |
| Sniper Weapons Training | Weapon Skill Ability to use DTR4A and BMP9 | CTC | |
| Solar Plant | Key Structure Continue reading → | Key Buildings | |
| SP911 | Pistol Continue reading → | Infantry Weapons | Pistols |
| SPACE CAMPAIGN | Terran Insurgent Ribbon Continue reading → | Decorations | Ribbons - Insurgent |
| SPACE WARFARE | Terran Military Ribbon Continue reading → | Decorations | Ribbons - Military |
| SPECIAL OPS RIBBON | Commander Perk Continue reading → | Decorations | |
| SPS01 | Standard-Projectile-Shot Continue reading → | Ordnance | Ammo |
| SPS02 | Standard-Projectile-Shot Continue reading → | Ordnance | Ammo |
| SPS03 | Standard-Projectile-Shot Continue reading → | Ordnance | Ammo |
| SPS04 | Standard-Projectile-Shot Continue reading → | Ordnance | Ammo |
| SSS01 | Projectile Continue reading → | Ordnance | Ammo |
| SSS02 | Projectile Continue reading → | Ordnance | Ammo |
| STAR OF MERIT | Terran Military Medal Continue reading → | Decorations | Medals - Military |
| Starbase Frostbite | Planetary Base Continue reading → | Key Buildings | |
| Starbase Gulge | Planetary Base Continue reading → | Key Buildings | |
| Starbase Heatwave | Planetary Base Continue reading → | Key Buildings | |
| Starbase Nightbridge | Planetary Base Continue reading → | Key Buildings | |
| Stardrone | Heavy Fighter Continue reading → | Aircrafts | Fighters |
| Starguard | Attack Carrier Continue reading → | Carriers | |
| Starlance | Medium Fighter Continue reading → | Aircrafts | Fighters |
| Starmonk | Light Fighter Continue reading → | Aircrafts | Fighters |
| Stationary Defense License | Defenses Skill Ability to fire AX10, AX21, AX25, GDN4, MK3P, MK1D and MK2D | CTC | |
| STS-ANALOG | Space-To-Space Missile Continue reading → | Ordnance | Missile |
| STS-FIRESTAR | Space-To-Space Missile Continue reading → | Ordnance | Missile |
| STS-PERSEUS | Space-To-Space Missile Continue reading → | Ordnance | Missile |
| STS-QUESTOR | Space-To-Space Missile Continue reading → | Ordnance | Missile |
| STS-RALIX | Space-To-Space Missile Continue reading → | Ordnance | Missile |
| STS-STARCHILD | Space-To-Space Missile Continue reading → | Ordnance | Missile |
| STS-STARFLASH | Space-To-Space Missile Continue reading → | Ordnance | Missile |
| STS-STARSEEKER | Space-To-Space Missile Continue reading → | Ordnance | Missile |
| STS-VAGRANT | Space-To-Space Missile Continue reading → | Ordnance | Missile |
| Super Fighter Class License | Aircraft Skill Ability to pilot RAVEN, VANDAL and ZENSTAR | CTC | |
| Supply Depot | Key Structure Continue reading → | Key Buildings | |
| Supply Platform | Resupply Station Continue reading → | Other | |
| T-92 Fisheye | Drone Continue reading → | Deployables | |
| T-Shaft | Infantry Teleportation Continue reading → | Other | |
| T73P | Pistol Continue reading → | Infantry Weapons | Pistols |
| TAB MX1 | Ground Vehicle Continue reading → | Vehicles | |
| TAB MX1B | Commander Perk Continue reading → | Vehicles | |
| TAB MX2 | Ground Vehicle Continue reading → | Vehicles | |
| TACOPS Terminal | Tactical Operations Terminal Continue reading → | Other | |
| TACTICAL INFANTRY | Terran Military Ribbon Continue reading → | Decorations | Ribbons - Military |
| Tactical Info Pad | Inventory Item Continue reading → | Infantry Gear | |
| Tactical Insertion Protocol | Infantry Improvement Skill Ability to select a spawn base (Starbase or Starstation) instead of randomly assigned a spawn base | CTC | |
| TACTICAL WARFARE | Terran Insurgent Ribbon Continue reading → | Decorations | Ribbons - Insurgent |
| TACTICAL WARFARE STAR | Terran Insurgent Ribbon Continue reading → | Decorations | Ribbons - Insurgent |
| Tactical Warning System | Inventory Item Continue reading → | Infantry Gear | |
| Tactical Weapons – Airborne | Inventory Skill Ability to use T92-FISHEYE and X89-EAGLE | CTC | |
| Tactical Weapons – Tactical | Inventory Skill Ability to use LADMK1, LADMK2, YN99MK1, YN99MK2, BLOODHOUND and CATALYST | CTC | |
| TALON | Turret System Continue reading → | Defense Systems | Turret System |
| Tank Class License | Ground Vehicle Skill Ability to drive MAYHEM and WILDCAT | CTC | |
| Target Designator T1 | Weapon Attachment Continue reading → | Infantry Weapons | Weapon Attachments |
| Target Designator T2 | Weapon Attachment Continue reading → | Infantry Weapons | Weapon Attachments |
| Target Designator Unit | Inventory Item Continue reading → | Infantry Gear | |
| Templar | Starstation Continue reading → | Stations | |
| Throwing Knife | Throwing Weapon Continue reading → | Infantry Weapons | Other |
| TKR-9 | Other Weapon Continue reading → | Infantry Weapons | Other |
| TKR12 | Shotgun Continue reading → | Infantry Weapons | Shotguns |
| TL22 | Assault Rifle Continue reading → | Infantry Weapons | Rifles |
| Troop Barracks | Key Structure Continue reading → | Key Buildings | |
| TSX1 | Mobile Missile System Continue reading → | Defense Systems | Missile System |
| TSX2 | Mobile Missile System Continue reading → | Defense Systems | Missile System |
| UAV | Ground Vehicle Continue reading → | Vehicles | |
| Vandal | Super Fighter Continue reading → | Aircrafts | Fighters |
| Vanguard | Starstation Continue reading → | Stations | |
| VT-112 | Android Continue reading → | Androids | |
| WAY OF THE WARRIOR | Terran Insurgent Medal Continue reading → | Decorations | Medals - Insurgent |
| Waypoint Designator Unit | Inventory Item Continue reading → | Infantry Gear | |
| WILDCAT | Ground Vehicle Continue reading → | Vehicles | |
| Wingchute | Inventory Item Continue reading → | Infantry Gear | |
| Wingchute-SC | Commander Perk Continue reading → | Infantry Gear | |
| Wingsuit | Inventory Item Continue reading → | Infantry Gear | |
| Wingsuit Training | Inventory Skill Ability to use Wingsuit/Wingchute | CTC | |
| Wingsuit-SC | Commander Perk Continue reading → | Infantry Gear | |
| WLAPG | Grenade Continue reading → | Infantry Weapons | Grenades |
| World Map | The Line Of Defense World Continue reading → | World Map | |
| Wrist Laser | Other Weapon Continue reading → | Infantry Weapons | Other |
| X716G | Naval Vehicle Continue reading → | Vehicles | |
| X89 Eagle | Drone Continue reading → | Deployables | |
| XN32 | Assault Rifle Continue reading → | Infantry Weapons | Rifles |
| XP10 | Mobile Turret System Continue reading → | Defense Systems | Turret System |
| XR-711 | Android Continue reading → | Androids | |