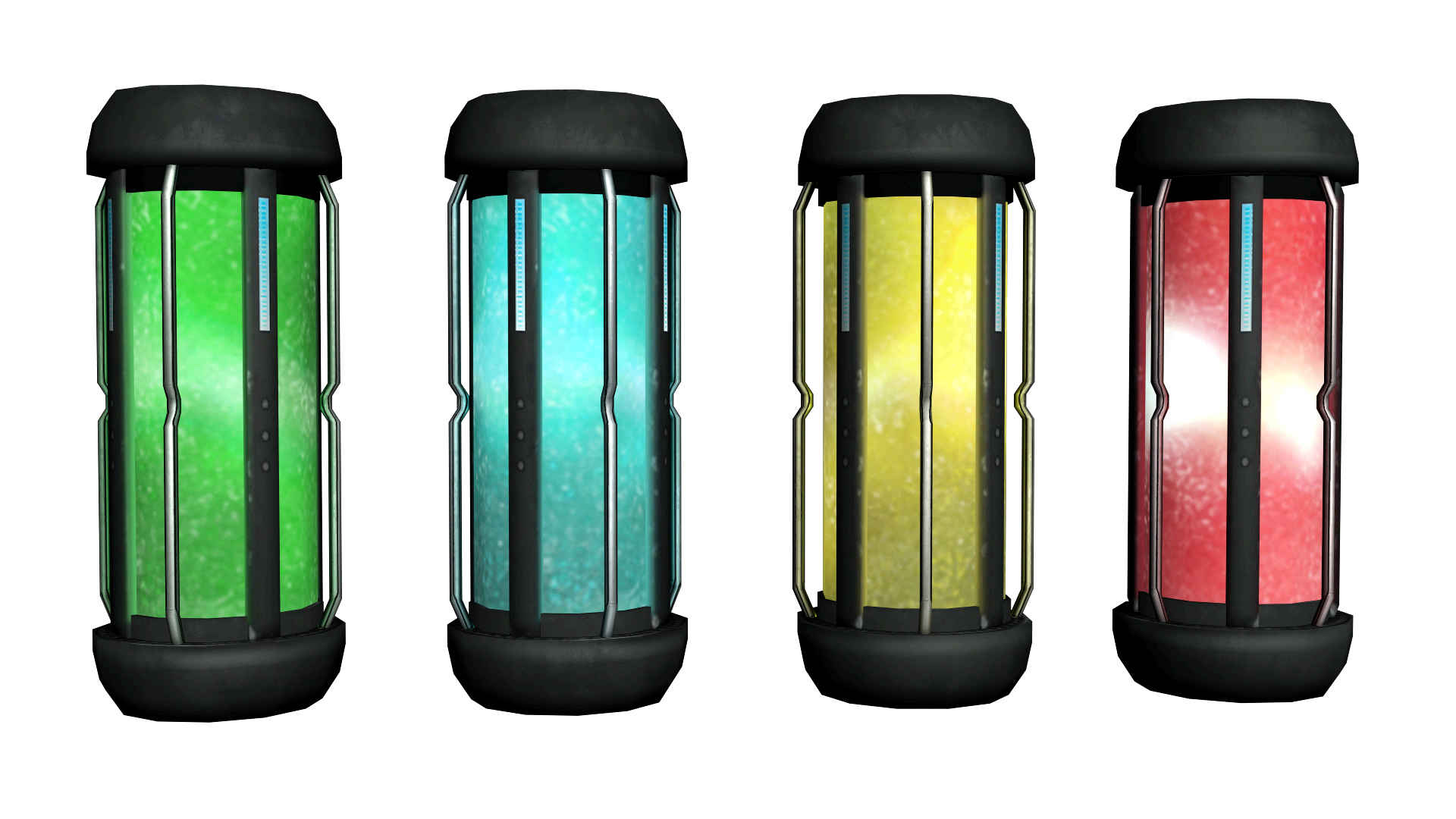 ENERGY CELL
Standard Inventory Item
Weight (kg): 1
Produced by Solar Reactor Plants and Nuclear Reactor Plants and used for powering various items, vehicles and aircraft.
Comes in amounts of 10, 15, 25 and 40.
Usage: For owned items (e.g. Personal Shield Unit), the required amount is taken from inventory automatically. For use on other targets, press 9 to equip, then press the weapon fire button to use it.
Aircrafts
Androids
Carriers
Characters
Decorations
Defense Systems
Deployables
Infantry Gear
Infantry Weapons
Key Buildings
Ordnance
Other
Stations
Vehicles
World Map
| Name | Description | Category | Sub-Category |
| --- | --- | --- | --- |
| A9MAG | Machine Gun Continue reading → | Infantry Weapons | Machine Guns |
| AC-420 | Android Continue reading → | Androids | |
| ACAV | Ground Vehicle Continue reading → | Vehicles | |
| ACM | Mobile Missile System Continue reading → | Defense Systems | Missile System |
| Activate medium building | CEP Award Continue reading → | CEP | Key Unit CEP |
| Activate small building | CEP Award Continue reading → | CEP | Key Unit CEP |
| ADV | Mobile Missile System Continue reading → | Defense Systems | Missile System |
| Advanced Gunner License | Defenses Skill Ability to fire TALON artillery gun | CTC | |
| Advanced Programming Spec I | Infantry Improvement Skill Ability to use terminals | CTC | |
| Advanced Programming Spec II | Infantry Improvement Skill Ability to program ADJ, ADS, EWR, COMMS | CTC | |
| Advanced Programming Spec III | Infantry Improvement Skill Ability to program NUCLEAR PLANT, SOLAR PLANT | CTC | |
| Advanced Tactical Specialist | Infantry Improvement Skill Ability to operate and fire the MFB mounted ICBM. Requires ICBM Specialist CTC | CTC | |
| Advanced Weapons Training | Weapon Skill Ability to use GLE22 and HORNET | CTC | |
| AERIAL CAMPAIGN | Terran Insurgent Ribbon Continue reading → | Decorations | Ribbons - Insurgent |
| AERIAL WARFARE | Terran Military Ribbon Continue reading → | Decorations | Ribbons - Military |
| Aggressor | Attack Gunship Continue reading → | Aircrafts | Gunships |
| Android kill | CEP Award Continue reading → | CEP | Infantry CEP |
| APC | Ground Vehicle Continue reading → | Vehicles | |
| APG | Grenade Continue reading → | Infantry Weapons | Grenades |
| APL01 | All-Purpose-Laser Continue reading → | Ordnance | Laser |
| APL02 | All-Purpose-Laser Continue reading → | Ordnance | Laser |
| APL03 | All-Purpose-Laser Continue reading → | Ordnance | Laser |
| APL04 | All-Purpose-Laser Continue reading → | Ordnance | Laser |
| APM-RADIX | All-Purpose-Missile Continue reading → | Ordnance | Missile |
| APR-GLR | All-Purpose-Rocket Continue reading → | Ordnance | Rocket |
| APR-GPR | All-Purpose-Rocket Continue reading → | Ordnance | Rocket |
| APR-RALAR | All-Purpose-Rocket Continue reading → | Ordnance | Rocket |
| APS01 | All-Purpose-Shell Continue reading → | Ordnance | Projectile |
| APS02 | All-Purpose-Shell Continue reading → | Ordnance | Projectile |
| APS03 | All-Purpose-Shell Continue reading → | Ordnance | Projectile |
| APS04 | All-Purpose-Shell Continue reading → | Ordnance | Projectile |
| APS05 | All-Purpose-Shell Continue reading → | Ordnance | Projectile |
| Area Defense Jammer | Key Structure Continue reading → | Key Buildings | |
| Area Defense Shield | Key Structure Continue reading → | Key Buildings | |
| Arkangel | Starstation Continue reading → | Stations | |
| ARMOR-CL1 | Inventory Item Continue reading → | Infantry Gear | |
| ARMOR-CL2 | Inventory Item Continue reading → | Infantry Gear | |
| ARMOR-CL3 | Inventory Item Continue reading → | Infantry Gear | |
| ARMOR-CL4 | Inventory Item Continue reading → | Infantry Gear | |
| Assault Force Marine | Infantry Continue reading → | Characters | Terran Military |
| Asset Requisition Center | Key Structure Continue reading → | Key Buildings | |
| Assist in a kill | CEP Award Continue reading → | CEP | Infantry CEP |
| ATA-CLUSTER | Air-To-Air Missile Continue reading → | Ordnance | Missile |
| ATA-MAGELLAN | Air-To-Air Missile Continue reading → | Ordnance | Missile |
| ATA-MARINER | Air-To-Air Missile Continue reading → | Ordnance | Missile |
| ATA-PILGRIM | Air-To-Air Missile Continue reading → | Ordnance | Missile |
| ATA-SEEKER | Air-To-Air Missile Continue reading → | Ordnance | Missile |
| ATA-WARRIOR | Air-To-Air Missile Continue reading → | Ordnance | Missile |
| ATS-GAINER | Air-To-Surface Missile Continue reading → | Ordnance | Missile |
| ATS-HARPOON | Air-To-Surface Missile Continue reading → | Ordnance | Missile |
| ATS-HYPERDYNE | Air-To-Surface Missile Continue reading → | Ordnance | Missile |
| ATS-LYNX | Air-To-Surface Missile Continue reading → | Ordnance | Missile |
| ATS-MAVERICK | Air-To-Surface Missile Continue reading → | Ordnance | Missile |
| ATS-SPYDER | Air-To-Surface Missile Continue reading → | Ordnance | Missile |
| ATV | Ground Vehicle Continue reading → | Vehicles | |
| Aurora | Medium Fighter Continue reading → | Aircrafts | Fighters |
| AWARD FOR BRAVERY | Terran Insurgent Medal Continue reading → | Decorations | Medals - Insurgent |
| AWARD FOR DISTINCTION | Terran Insurgent Ribbon Continue reading → | Decorations | Ribbons - Insurgent |
| AWARD FOR GALLANTRY | Terran Military Medal Continue reading → | Decorations | Medals - Military |
| AX10 | Missile System Continue reading → | Defense Systems | Missile System |
| AX21 | Missile System Continue reading → | Defense Systems | Missile System |
| AX25 | Missile System Continue reading → | Defense Systems | Missile System |
| Backpack-CL1 | Inventory Item Continue reading → | Infantry Gear | |
| Backpack-CL2 | Inventory Item Continue reading → | Infantry Gear | |
| Basic Weapons Proficiency | Weapon Skill Ability to use SCAT2, SP911 and T73P | CTC | |
| Basic Weapons Training | Weapon Skill Ability to use M310 and SCAT1. | CTC | |
| Beam Weapons Training | Weapon Skill Ability to use Energy Lance and WristLaser | CTC | |
| BEHIND ENEMY LINES | Terran Insurgent Ribbon Continue reading → | Decorations | Ribbons - Insurgent |
| Bio-Alert | Neural Implant Continue reading → | Infantry Gear | Implant |
| Bio-Fish | Neural Implant Continue reading → | Infantry Gear | Implant |
| Bio-Inhuman | Neural Implant Continue reading → | Infantry Gear | Implant |
| Bio-Injector | Inventory Item Continue reading → | Infantry Gear | Implant |
| Bio-Jump | Neural Implant Continue reading → | Infantry Gear | Implant |
| Bio-Pain | Neural Implant Continue reading → | Infantry Gear | Implant |
| Bio-Quick | Neural Implant Continue reading → | Infantry Gear | Implant |
| Bio-Sense | Neural Implant Continue reading → | Infantry Gear | Implant |
| Bio-Teleport | Neural Implant Continue reading → | Infantry Gear | Implant |
| Bio-View | Neural Implant Continue reading → | Infantry Gear | Implant |
| Bio-Warp | Neural Implant Continue reading → | Infantry Gear | Implant |
| Blackghost | Assault Gunship Continue reading → | Aircrafts | Gunships |
| Bloodhound | Turret Continue reading → | Deployables | |
| BMP9 | Sniper Rifle Continue reading → | Infantry Weapons | Sniper Rifles |
| BRONZE STAR | Terran Military Ribbon Continue reading → | Decorations | Ribbons - Military |
| CAB MK1 | Ground Vehicle Continue reading → | Vehicles | |
| CAB MK2 | Ground Vehicle Continue reading → | Vehicles | |
| CAMPAIGN MERIT | Terran Military Ribbon Continue reading → | Decorations | Ribbons - Military |
| Catalyst | Turret Continue reading → | Deployables | |
| CAV | Ground vehicle Continue reading → | Vehicles | |
| CHAINS OF FREEDOM | Terran Insurgent Medal Continue reading → | Decorations | Medals - Insurgent |
| Class A Gunship License | Aircraft Skill Ability to pilot PHANTOM, AGGRESSOR, RAPIER and INTERDICTOR | CTC | |
| Class A Naval Vehicle Training | Naval Vehicle Skill Ability to pilot X716G | CTC | |
| Class B Gunship License | Aircraft Skill Ability to pilot BLACKGHOST, INTRUDER and SHADOW | CTC | |
| Class B Naval Vehicle Training | Naval Vehicle Skill Ability to pilot M-23L | CTC | |
| COMBAT DUTY | Terran Insurgent Ribbon Continue reading → | Decorations | Ribbons - Insurgent |
| Combat Knife | Melee Weapon Continue reading → | Infantry Weapons | Other |
| Combat Medic Expertise | Infantry Improvement Skill Increase rate the PMU restores health by 50% | CTC | |
| Combat Medic Proficiency | Infantry Improvement Skill Increase rate the PMU restores health by 33% | CTC | |
| Combat Medic Training | Infantry Improvement Skill Increase rate the PMU restores health by 16% | CTC | |
| COMBAT OPERATIONS | Terran Insurgent Medal Continue reading → | Decorations | Medals - Insurgent |
| COMBAT SERVICES | Terran Military Ribbon Continue reading → | Decorations | Ribbons - Military |
| COMBAT SHIELD | Terran Military Medal Continue reading → | Decorations | Medals - Military |
| Command & Control | Key Structure Continue reading → | Key Buildings | |
| Command Base Operations Proficiency | Buildings Skill Ability to activate SOLAR PLANT, NUCLEAR PLANT, COMMS, and Starbases | CTC | |
| COMMAND SERGEANT | Terran Military Rank Continue reading → | Decorations | Ranks |
| COMMANDER | Terran Military Rank Continue reading → | Decorations | Ranks |
| COMMANDER CL1 | Terran Insurgent Rank Continue reading → | Decorations | Ranks |
| COMMANDER CL2 | Terran Insurgent Rank Continue reading → | Decorations | Ranks |
| COMMANDER CL3 | Terran Insurgent Rank Continue reading → | Decorations | Ranks |
| COMMANDERS SHIELD | Terran Military Medal Continue reading → | Decorations | Medals - Military |
| Comms Array | Key Structure Continue reading → | Key Buildings | |
| Complete entire mission successfully | CEP Award Continue reading → | CEP | Infantry CEP |
| Complete specific mission objective | CEP Award Continue reading → | CEP | Infantry CEP |
| CORPORAL | Terran Military Rank Continue reading → | Decorations | Ranks |
| Corsair | Heavy Fighter Continue reading → | Aircrafts | Fighters |
| CQC Expertise | Infantry Improvement Skill Increase damage with melee and throwing knife attacks by 150% | CTC | |
| CQC Proficiency | Infantry Improvement Skill Increase damage with melee and throwing knife attacks by 100% | CTC | |
| CQC Training | Infantry Improvement Skill Increase damage with melee and throwing knife attacks by 50% | CTC | |
| Critical kill | CEP Award Continue reading → | CEP | Infantry CEP |
| DEFENSE SUPERIOR SERVICES | Terran Military Ribbon Continue reading → | Decorations | Ribbons - Military |
| Destroy android | CEP Award Continue reading → | CEP | Inventory CEP |
| Destroy attack gunship | CEP Award Continue reading → | CEP | Aircraft CEP |
| Destroy deployables | CEP Award Continue reading → | CEP | Inventory CEP |
| Destroy ground defense gun turret unit – fixed | CEP Award Continue reading → | CEP | Defense System CEP |
| Destroy ground defense gun turret unit – mobile | CEP Award Continue reading → | CEP | Defense System CEP |
| Destroy ground defense missile turret unit – fixed | CEP Award Continue reading → | CEP | Defense System CEP |
| Destroy ground defense missile turret unit – mobile | CEP Award Continue reading → | CEP | Defense System CEP |
| Destroy ground vehicle – APC | CEP Award Continue reading → | CEP | Ground Vehicle CEP |
| Destroy ground vehicle – generic | CEP Award Continue reading → | CEP | Ground Vehicle CEP |
| Destroy ground vehicle – HAV | CEP Award Continue reading → | CEP | Ground Vehicle CEP |
| Destroy ground vehicle – MFB | CEP Award Continue reading → | CEP | Ground Vehicle CEP |
| Destroy ground vehicle – MICE | CEP Award Continue reading → | CEP | Ground Vehicle CEP |
| Destroy ground vehicle – tank | CEP Award Continue reading → | CEP | Ground Vehicle CEP |
| Destroy heavy fighter | CEP Award Continue reading → | CEP | Aircraft CEP |
| Destroy large building | CEP Award Continue reading → | CEP | Key Unit CEP |
| Destroy light fighter | CEP Award Continue reading → | CEP | Aircraft CEP |
| Destroy light gunship | CEP Award Continue reading → | CEP | Aircraft CEP |
| Destroy medium building | CEP Award Continue reading → | CEP | Key Unit CEP |
| Destroy medium fighter | CEP Award Continue reading → | CEP | Aircraft CEP |
| Destroy mission specific target | CEP Award Continue reading → | CEP | Infantry CEP |
| Destroy naval vehicle | CEP Award Continue reading → | CEP | Naval Vehicle CEP |
| Destroy small building | CEP Award Continue reading → | CEP | Key Unit CEP |
| Destroy super fighter | CEP Award Continue reading → | CEP | Aircraft CEP |
| Destroy transport shuttle | CEP Award Continue reading → | CEP | Aircraft CEP |
| Disable aircraft | CEP Award Continue reading → | CEP | Aircraft CEP |
| Disable ground vehicle | CEP Award Continue reading → | CEP | Ground Vehicle CEP |
| Disable mines | CEP Award Continue reading → | CEP | Inventory CEP |
| Disable naval vehicle | CEP Award Continue reading → | CEP | Naval Vehicle CEP |
| DISTINGUISHED SERVICES | Terran Military Ribbon Continue reading → | Decorations | Ribbons - Military |
| DJP | Infantry Teleportation Continue reading → | Other | |
| DT-489 | Android Continue reading → | Androids | |
| DTR4A | Sniper Rifle Continue reading → | Infantry Weapons | Sniper Rifles |
| DUC01 | Projectile Continue reading → | Ordnance | Ammo |
| DUC02 | Projectile Continue reading → | Ordnance | Ammo |
| DUC03 | Projectile Continue reading → | Ordnance | Ammo |
| DUC04 | Projectile Continue reading → | Ordnance | Ammo |
| DUC05 | Projectile Continue reading → | Ordnance | Ammo |
| DUPE01 | Projectile Continue reading → | Ordnance | Ammo |
| DUPE02 | Projectile Continue reading → | Ordnance | Ammo |
| DUPE03 | Projectile Continue reading → | Ordnance | Ammo |
| DUPE04 | Projectile Continue reading → | Ordnance | Ammo |
| Early Warning Radar | Key Structure Continue reading → | Key Buildings | |
| ECELL | Energy Cell Continue reading → | Ordnance | Ammo |
| Elite Force Marine | Infantry Continue reading → | Characters | Terran Military |
| Elite Force Pilot | Infantry Continue reading → | Characters | Terran Military |
| Elite Force Pilot (female) | Infantry Continue reading → | Characters | Terran Military |
| ELITE ORDER OF WAR | Terran Insurgent Ribbon Continue reading → | Decorations | Ribbons - Insurgent |
| EMPG | Grenade Continue reading → | Infantry Weapons | Grenades |
| ENERGY CELL | Inventory Item Continue reading → | Infantry Gear | Other |
| Energy Lance | Melee Weapon Continue reading → | Infantry Weapons | Other |
| ENGINEERING CORPS | Terran Military Ribbon Continue reading → | Decorations | Ribbons - Military |
| Engineering Spec I | Infantry Improvement Skill Increase rate the PRU restores health by 15% | CTC | |
| Engineering Spec II | Infantry Improvement Skill Increase rate the PRU restores health by 30% | CTC | |
| Engineering Spec III | Infantry Improvement Skill Increase rate the PRU restores health by 45% | CTC | |
| ENGINEERING STAR | Terran Insurgent Ribbon Continue reading → | Decorations | Ribbons - Insurgent |
| ENSIGN | Terran Military Rank Continue reading → | Decorations | Ranks |
| EXCEPTIONAL SERVICE | Terran Insurgent Ribbon Continue reading → | Decorations | Ribbons - Insurgent |
| EXPEDITIONARY CROSS | Terran Military Ribbon Continue reading → | Decorations | Ribbons - Military |
| EYE OF ANDROMEDA | Terran Military Medal Continue reading → | Decorations | Medals - Military |
| FG45 | Assault Rifle Continue reading → | Infantry Weapons | Rifles |
| Flash | Grenade Continue reading → | Infantry Weapons | Grenades |
| Frag | Grenade Continue reading → | Infantry Weapons | Grenades |
| Friendly fire kill (critical) | CEP Reduction Continue reading → | CEP | Infantry CEP |
| Friendly fire kill (melee) | CEP Reduction Continue reading → | CEP | Infantry CEP |
| Friendly fire kill (ranged) | CEP Reduction Continue reading → | CEP | Infantry CEP |
| GDN4 | Missile System Continue reading → | Defense Systems | Missile System |
| GENERAL CL1 | Terran Insurgent Rank Continue reading → | Decorations | Ranks |
| GENERAL CL2 | Terran Insurgent Rank Continue reading → | Decorations | Ranks |
| GENERAL CL3 | Terran Insurgent Rank Continue reading → | Decorations | Ranks |
| GENERAL SPEC 1 | Terran Military Rank Continue reading → | Decorations | Ranks |
| GENERAL SPEC 2 | Terran Military Rank Continue reading → | Decorations | Ranks |
| GENERAL SPEC 3 | Terran Military Rank Continue reading → | Decorations | Ranks |
| GENERAL SPEC A | Terran Military Rank Continue reading → | Decorations | Ranks |
| GENERAL SPEC B | Terran Military Rank Continue reading → | Decorations | Ranks |
| GENERAL SPEC C | Terran Military Rank Continue reading → | Decorations | Ranks |
| Get hit by HID | CEP Reduction Continue reading → | CEP | Infantry CEP |
| GLE22 | Grenade Launcher Continue reading → | Infantry Weapons | Launchers |
| GOLD LAURELS | Terran Insurgent Ribbon Continue reading → | Decorations | Ribbons - Insurgent |
| GOLD STAR | Terran Insurgent Ribbon Continue reading → | Decorations | Ribbons - Insurgent |
| GPMG | Machine Gun Continue reading → | Infantry Weapons | Machine Guns |
| Grazer | Orbital Defense System Continue reading → | Defense Systems | Missile System |
| Grenade Launcher T1 | Weapon Attachment Continue reading → | Infantry Weapons | Weapon Attachments |
| Grenade Launcher T2 | Weapon Attachment Continue reading → | Infantry Weapons | Weapon Attachments |
| GROUND CAMPAIGN | Terran Insurgent Ribbon Continue reading → | Decorations | Ribbons - Insurgent |
| Ground Vehicle Expertise | Ground Vehicle Skill Ability to drive APC and ATV | CTC | |
| Ground Vehicle Proficiency | Ground Vehicle Skill Ability to drive ACAV, CAB, and UAV | CTC | |
| Ground Vehicle Training | Ground Vehicle Skill Ability to drive CAV, TAB and TABMX2 | CTC | |
| GROUND WARFARE | Terran Military Ribbon Continue reading → | Decorations | Ribbons - Military |
| HAIS Training | Inventory Skill Ability to use HAIS | CTC | |
| HAIS-MK1 | Inventory Item Continue reading → | Infantry Gear | |
| HAIS-MK2 | Inventory Item Continue reading → | Infantry Gear | |
| Hanger | Key Structure Continue reading → | Key Buildings | |
| Harvesting Proficiency | Buildings Skill Increases Radine crystal carrying capacity by 25. | CTC | |
| Harvesting Training | Buildings Skill Increases Radine crystal carrying capacity by 10. | CTC | |
| HAV | Ground Vehicle Continue reading → | Vehicles | |
| HAV Class License | Ground Vehicle Skill Ability to drive HAV | CTC | |
| HD4SG | Shotgun Continue reading → | Infantry Weapons | Shotguns |
| Heal ally | CEP Award Continue reading → | CEP | Infantry CEP |
| Heal self | CEP Award Continue reading → | CEP | Infantry CEP |
| Heavy Fighter Class License | Aircraft Skill Ability to pilot ICMK1, ICMK2, CORSAIR and STARDRONE | CTC | |
| Heavy Weapons Proficiency | Weapon Skill Ability to use PX42, SAW911 and GPMG | CTC | |
| Heavy Weapons Training | Weapon Skill Ability to use A9MAG and MK330 | CTC | |
| HID | Other Weapon Continue reading → | Infantry Weapons | Other |
| Hit enemy with HID | CEP Award Continue reading → | CEP | Infantry CEP |
| HK900 | Shotgun Continue reading → | Infantry Weapons | Shotguns |
| Home Security Proficiency | Buildings Skill Ability to activate ADS, ADJ and EWR | CTC | |
| Hornet | Rocket Launcher Continue reading → | Infantry Weapons | Launchers |
| HUMANITARIAN AWARD | Terran Insurgent Ribbon Continue reading → | Decorations | Ribbons - Insurgent |
| HVC01 | High Velocity Cartridge Continue reading → | Ordnance | Projectile |
| HVC02 | High Velocity Cartridge Continue reading → | Ordnance | Projectile |
| ICBM | Intercontinental Ballistic Missile Continue reading → | Ordnance | Missile |
| ICBM Launch Operator | Infantry Improvement Skill Ability to operate and fire the MFB mounted ICBM. Requires Advanced Tactical Specialist CTC | CTC | |
| Implant Augmentation Chamber | Neural Implant Installation Continue reading → | Other | |
| Implant Expertise | Infantry Improvement Skill Increase the number of Neural Implants that can be active at once by two | CTC | |
| Implant Proficiency | Infantry Improvement Skill Increase the number of Neural Implants that can be active at once by one | CTC | |
| Insurgent Commander | Infantry Continue reading → | Characters | Terran Insurgent |
| Insurgent Heavy | Infantry Continue reading → | Characters | Terran Insurgent |
| Insurgent Infantry | Infantry Continue reading → | Characters | Terran Insurgent |
| Insurgent Sniper | Infantry Continue reading → | Characters | Terran Insurgent |
| Insurgent Sniper (female) | Infantry Continue reading → | Characters | Terran Insurgent |
| Interceptor MK1 | Heavy Fighter Continue reading → | Aircrafts | Fighters |
| Interceptor MK2 | Heavy Fighter Continue reading → | Aircrafts | Fighters |
| Interdictor | Attack Gunship Continue reading → | Aircrafts | Gunships |
| Intruder | Assault Gunship Continue reading → | Aircrafts | Gunships |
| Item Proficiency | Inventory Skill Ability to use PMS, PSJ, PSU, PTU and TWS | CTC | |
| Item Training | Inventory Skill Ability to use PBU, PCU, PIE, TDU and WDU | CTC | |
| J334B | Grenade Launcher Continue reading → | Infantry Weapons | Launchers |
| Jetpack Training | Inventory Skill Ability to use Jetpacks | CTC | |
| Jetpack-MK1 | Inventory Item Continue reading → | Infantry Gear | |
| Jetpack-MK1B | Commander Perk Continue reading → | Infantry Gear | |
| Jetpack-MK2 | Inventory Item Continue reading → | Infantry Gear | |
| Jetpack-MK2B | Inventory Item Continue reading → | Infantry Gear | |
| Jumpgate | Aircraft Teleportation Continue reading → | Other | |
| K19XZ | Shuttle Continue reading → | Aircrafts | Shuttles |
| Kill infantry person (melee) | CEP Award Continue reading → | CEP | Infantry CEP |
| Kill infantry person (multiple) | CEP Award Continue reading → | CEP | Infantry CEP |
| Kill Infantry Person (ranged) | CEP Award Continue reading → | CEP | Infantry CEP |
| KLMP | Rocket Launcher Continue reading → | Infantry Weapons | Launchers |
| LAD MK1 | Turret Continue reading → | Deployables | |
| LAD MK2 | Turret Continue reading → | Deployables | |
| LANCE CORPORAL | Terran Military Rank Continue reading → | Decorations | Ranks |
| Laser Marker | Weapon Attachment Continue reading → | Infantry Weapons | Weapon Attachments |
| Launchpad 01 | Key Structure Continue reading → | Key Buildings | |
| Launchpad 02 | Key Structure Continue reading → | Key Buildings | |
| Leech | Mine Continue reading → | Infantry Weapons | Mines |
| LIEUTENANT | Terran Military Rank Continue reading → | Decorations | Ranks |
| LIFE SAVING AWARD | Terran Military Ribbon Continue reading → | Decorations | Ribbons - Military |
| Light Fighter Class License | Aircraft Skill Ability to pilot STARMONK and ZODIAC | CTC | |
| Light Weapons Proficiency | Weapon Skill Ability to use XN32, ZS10 and ZS12 | CTC | |
| Light Weapons Training | Weapon Skill Ability to use FG45, M117, and TL22 | CTC | |
| Limpet | Mine Continue reading → | Infantry Weapons | Mines |
| LR12 | Rocket Launcher Continue reading → | Infantry Weapons | Launchers |
| LT. COMMANDER | Terran Military Rank Continue reading → | Decorations | Ranks |
| LYRIUS CAMPAIGN | Terran Military Ribbon Continue reading → | Decorations | Ribbons - Military |
| M-23L | Naval Vehicle Continue reading → | Vehicles | |
| M117 | Assault Rifle Continue reading → | Infantry Weapons | Rifles |
| M310 | Pistol Continue reading → | Infantry Weapons | Pistols |
| MAG-APR | Ammo Mag Continue reading → | Ordnance | Ammo Mag |
| MAG-AR1 | Ammo Mag Continue reading → | Ordnance | Ammo Mag |
| MAG-AR2 | Ammo Mag Continue reading → | Ordnance | Ammo Mag |
| MAG-AR3 | Ammo Mag Continue reading → | Ordnance | Ammo Mag |
| MAG-AR4 | Ammo Mag Continue reading → | Ordnance | Ammo Mag |
| MAG-HID | Ammo Mag Continue reading → | Ordnance | Ammo Mag |
| MAG-HVC1 | Ammo Mag Continue reading → | Ordnance | Ammo Mag |
| MAG-HVC2 | Ammo Mag Continue reading → | Ordnance | Ammo Mag |
| MAG-MG1 | Ammo Mag Continue reading → | Ordnance | Ammo Mag |
| MAG-MG2 | Ammo Mag Continue reading → | Ordnance | Ammo Mag |
| MAG-P1 | Ammo Mag Continue reading → | Ordnance | Ammo Mag |
| MAG-P2 | Ammo Mag Continue reading → | Ordnance | Ammo Mag |
| MAG-P3 | Ammo Mag Continue reading → | Ordnance | Ammo Mag |
| MAG-P4 | Ammo Mag Continue reading → | Ordnance | Ammo Mag |
| MAG-RKT1 | Ammo Mag Continue reading → | Ordnance | Ammo Mag |
| MAG-RKT2 | Ammo Mag Continue reading → | Ordnance | Ammo Mag |
| MAG-RKT3 | Ammo Mag Continue reading → | Ordnance | Ammo Mag |
| MAG-SR1 | Ammo Mag Continue reading → | Ordnance | Ammo Mag |
| MAG-SR2 | Ammo Mag Continue reading → | Ordnance | Ammo Mag |
| MAG-SR3 | Ammo Mag Continue reading → | Ordnance | Ammo Mag |
| MAG-SR4 | Ammo Mag Continue reading → | Ordnance | Ammo Mag |
| MAG-SS1 | Ammo Mag Continue reading → | Ordnance | Ammo Mag |
| MAG-SS2 | Ammo Mag Continue reading → | Ordnance | Ammo Mag |
| MAJOR | Terran Military Rank Continue reading → | Decorations | Ranks |
| MAN OF VALOR | Terran Insurgent Medal Continue reading → | Decorations | Medals - Insurgent |
| Mantis | Medium Fighter Continue reading → | Aircrafts | Fighters |
| MAYHEM | Ground Vehicle Continue reading → | Vehicles | |
| Medium Fighter Class License | Aircraft Skill Ability to pilot AURORA, MANTIS, and STARLANCE | CTC | |
| Medium Weapons Proficiency | Weapon Skill Ability to use RT41 and TKR12 | CTC | |
| Medium Weapons Training | Weapon Skill Ability to use HD4SG and HK900 | CTC | |
| MedKit | Inventory Item Continue reading → | Infantry Gear | |
| MFB | Ground Vehicle Continue reading → | Vehicles | |
| MFB License | Ground Vehicle Skill Ability to drive MFB | CTC | |
| MICE Class License | Ground Vehicle Skill Ability to use MICE-MK1 and MICE-MK2 | CTC | |
| MICE MK1 | Combat Exoframe Continue reading → | Vehicles | |
| MICE MK2 | Combat Exoframe Continue reading → | Vehicles | |
| Mine Proficiency | Weapon Skill Ability to use NUCSTAR Mines | CTC | |
| Mine Training | Weapon Skill Ability to lay LIMPET and LEECH Mines | CTC | |
| MK1D | Turret System Continue reading → | Defense Systems | Turret System |
| MK1P | Mobile Turret System Continue reading → | Defense Systems | Turret System |
| MK2D | Turret System Continue reading → | Defense Systems | Turret System |
| MK2P | Mobile Turret System Continue reading → | Defense Systems | Turret System |
| MK330 | Machine Gun Continue reading → | Infantry Weapons | Machine Guns |
| MK3P | Turret System Continue reading → | Defense Systems | Turret System |
| Mobile Defense Driving License | Defenses Skill Ability to drive TSX1, TSX2, ACM, ADV, MK1P, MK2P and XP10 | CTC | |
| Mobile Defense Gunner License | Defenses Skill Ability to fire TSX1, TSX2, ACM, ADV, MK1P, MK2P and XP10 | CTC | |
| Mobile Infantry Marine | Infantry Continue reading → | Characters | Terran Military |
| NAVAL CAMPAIGN | Terran Insurgent Ribbon Continue reading → | Decorations | Ribbons - Insurgent |
| NAVAL WARFARE | Terran Military Ribbon Continue reading → | Decorations | Ribbons - Military |
| NE-318 | Android Continue reading → | Androids | |
| Netstar | Orbital Defense System Continue reading → | Defense Systems | Missile System |
| Night Optics T1 | Weapon Attachment Continue reading → | Infantry Weapons | Weapon Attachments |
| Night Optics T2 | Weapon Attachment Continue reading → | Infantry Weapons | Weapon Attachments |
| Nuclear Plant | Key Structure Continue reading → | Key Buildings | |
| Nucstar | Mine Continue reading → | Infantry Weapons | Mines |
| NV Scope AR1 | Weapon Attachment Continue reading → | Infantry Weapons | Weapon Attachments |
| NV Scope AR2 | Weapon Attachment Continue reading → | Infantry Weapons | Weapon Attachments |
| NV Scope P1 | Weapon Attachment Continue reading → | Infantry Weapons | Weapon Attachments |
| NV Scope SR1 | Weapon Attachment Continue reading → | Infantry Weapons | Weapon Attachments |
| NV Scope SR2 | Weapon Attachment Continue reading → | Infantry Weapons | Weapon Attachments |
| NV Scope SR3 | Weapon Attachment Continue reading → | Infantry Weapons | Weapon Attachments |
| NV Scope SR4 | Weapon Attachment Continue reading → | Infantry Weapons | Weapon Attachments |
| ORDER OF THE CAUSE | Terran Insurgent Medal Continue reading → | Decorations | Medals - Insurgent |
| ORDER OF THE PHOENIX | Terran Insurgent Ribbon Continue reading → | Decorations | Ribbons - Insurgent |
| ORDER OF THE UNIVERSE | Terran Military Medal Continue reading → | Decorations | Medals - Military |
| ORDER OF THE WRAITH | Terran Military Medal Continue reading → | Decorations | Medals - Military |
| Overwatch | Starstation Continue reading → | Stations | |
| Phantom | Attack Gunship Continue reading → | Aircrafts | Gunships |
| PHOENIX RISING | Terran Insurgent Medal Continue reading → | Decorations | Medals - Insurgent |
| PL12 | Sniper Rifle Continue reading → | Infantry Weapons | Sniper Rifles |
| PLANETARY SHIELD | Terran Military Medal Continue reading → | Decorations | Medals - Military |
| Plasma | Grenade Continue reading → | Infantry Weapons | Grenades |
| Portable Breathing Unit | Inventory Item Continue reading → | Infantry Gear | |
| Portable Cloaking Unit | Inventory Item Continue reading → | Infantry Gear | |
| Portable Image Enhancer | Inventory Item Continue reading → | Infantry Gear | |
| Portable Medical Pack | Inventory Item Continue reading → | Infantry Gear | |
| Portable Medical Unit | Inventory Item Continue reading → | Infantry Gear | |
| Portable Motion Sensor | Inventory Item Continue reading → | Infantry Gear | |
| Portable Repair Unit | Inventory Item Continue reading → | Infantry Gear | |
| Portable Sensor Jammer | Inventory Item Continue reading → | Infantry Gear | |
| Portable Shield Unit | Inventory Item Continue reading → | Infantry Gear | |
| Portable Supply Pack | Commander Perk Continue reading → | Infantry Gear | |
| Portable Teleport Unit | Inventory Item Continue reading → | Infantry Gear | |
| Portable Weapon Pack | Inventory Item Continue reading → | Infantry Gear | |
| PRIVATE | Terran Military Rank Continue reading → | Decorations | Ranks |
| PRIVATE CL1 | Terran Insurgent Rank Continue reading → | Decorations | Ranks |
| PRIVATE CL2 | Terran Insurgent Rank Continue reading → | Decorations | Ranks |
| Probe | Communications Link Continue reading → | Other | |
| Protection Proficiency | Infantry Improvement Skill Increase the capacity of the shield created by the player's PSU by 50%. | CTC | |
| Proximity | Grenade Continue reading → | Infantry Weapons | Grenades |
| PURPLE HEART | Terran Military Ribbon Continue reading → | Decorations | Ribbons - Military |
| PX42 | Machine Gun Continue reading → | Infantry Weapons | Machine Guns |
| Rapier | Attack Gunship Continue reading → | Aircrafts | Gunships |
| Raven | Super Fighter Continue reading → | Aircrafts | Fighters |
| Rearm aircraft | CEP Award Continue reading → | CEP | Aircraft CEP |
| Rearm ground vehicle | CEP Award Continue reading → | CEP | Ground Vehicle CEP |
| Rearm naval vehicle | CEP Award Continue reading → | CEP | Naval Vehicle CEP |
| Rearm turret | CEP Award Continue reading → | CEP | Defense System CEP |
| Remote Access Pad | Inventory Item Continue reading → | Infantry Gear | |
| Repair a ground vehicle | CEP Award Continue reading → | CEP | Ground Vehicle CEP |
| Repair aircraft | CEP Award Continue reading → | CEP | Aircraft CEP |
| Repair naval vehicle | CEP Award Continue reading → | CEP | Naval Vehicle CEP |
| Repair turret | CEP Award Continue reading → | CEP | Defense System CEP |
| ROCKET01 | Rocket Continue reading → | Ordnance | Rocket |
| ROCKET02 | Rocket Continue reading → | Ordnance | Rocket |
| ROCKET03 | Rocket Continue reading → | Ordnance | Rocket |
| RT41 | Shotgun Continue reading → | Infantry Weapons | Shotguns |
| S779 | Sniper Rifle Continue reading → | Infantry Weapons | Sniper Rifles |
| SAM-ACM | Surface-To-Air Missile Continue reading → | Ordnance | Missile |
| SAM-ADV | Surface-To-Air Missile Continue reading → | Ordnance | Missile |
| SAM-AX10 | Surface-To-Air Missile Continue reading → | Ordnance | Missile |
| SAM-AX21 | Surface-To-Air Missile Continue reading → | Ordnance | Missile |
| SAM-AX25 | Surface-To-Air Missile Continue reading → | Ordnance | Missile |
| SAM-GDN4 | Surface-To-Air Missile Continue reading → | Ordnance | Missile |
| SAM-TSX1 | Surface-To-Air Missile Continue reading → | Ordnance | Missile |
| SAM-TSX2 | Surface-To-Air Missile Continue reading → | Ordnance | Missile |
| Satellite | Communications Relay Continue reading → | Other | |
| SAW911 | Machine Gun Continue reading → | Infantry Weapons | Machine Guns |
| SC490 | Shuttle Continue reading → | Aircrafts | Shuttles |
| SCAT1 | Pistol Continue reading → | Infantry Weapons | Pistols |
| SCAT2 | Pistol Continue reading → | Infantry Weapons | Pistols |
| SDM-DROGUE | Space-Defense-Missile Continue reading → | Ordnance | Missile |
| SDM-PACER | Space-Defense-Missile Continue reading → | Ordnance | Missile |
| SDM-PIRANHA | Space-Defense-Missile Continue reading → | Ordnance | Missile |
| SDM-PRAXIS | Space-Defense-Missile Continue reading → | Ordnance | Missile |
| SDM-SLAVE | Space-Defense-Missile Continue reading → | Ordnance | Missile |
| SDM-STARSTORM | Space-Defense-Missile Continue reading → | Ordnance | Missile |
| SDM-WIDOW | Space-Defense-Missile Continue reading → | Ordnance | Missile |
| Sentient Programming | Inventory Skill Ability to command/use VT-112, NE-318 and AC-420 | CTC | |
| SERGEANT | Terran Military Rank Continue reading → | Decorations | Ranks |
| SERVICE CROSS | Terran Military Ribbon Continue reading → | Decorations | Ribbons - Military |
| Shadow | Assault Gunship Continue reading → | Aircrafts | Gunships |
| SHIELD OF HONOR | Terran Insurgent Medal Continue reading → | Decorations | Medals - Insurgent |
| Shot Tracer T1 | Weapon Attachment Continue reading → | Infantry Weapons | Weapon Attachments |
| Shot Tracer T2 | Weapon Attachment Continue reading → | Infantry Weapons | Weapon Attachments |
| Shuttle Class License | Aircraft Skill Ability to pilot SC490 and K19XZ | CTC | |
| Silencer MK1 | Weapon Attachment Continue reading → | Infantry Weapons | Weapon Attachments |
| Silencer MK2 | Weapon Attachment Continue reading → | Infantry Weapons | Weapon Attachments |
| SLS01 | Standard-Laser-Shot Continue reading → | Ordnance | Ammo |
| SLS02 | Standard-Laser-Shot Continue reading → | Ordnance | Ammo |
| Smoke | Grenade Continue reading → | Infantry Weapons | Grenades |
| Sniper Weapons Proficiency | Weapon Skill Ability to use PL12 and S779 | CTC | |
| Sniper Weapons Training | Weapon Skill Ability to use DTR4A and BMP9 | CTC | |
| Solar Plant | Key Structure Continue reading → | Key Buildings | |
| SP911 | Pistol Continue reading → | Infantry Weapons | Pistols |
| SPACE CAMPAIGN | Terran Insurgent Ribbon Continue reading → | Decorations | Ribbons - Insurgent |
| SPACE WARFARE | Terran Military Ribbon Continue reading → | Decorations | Ribbons - Military |
| SPECIAL OPS RIBBON | Commander Perk Continue reading → | Decorations | |
| SPS01 | Standard-Projectile-Shot Continue reading → | Ordnance | Ammo |
| SPS02 | Standard-Projectile-Shot Continue reading → | Ordnance | Ammo |
| SPS03 | Standard-Projectile-Shot Continue reading → | Ordnance | Ammo |
| SPS04 | Standard-Projectile-Shot Continue reading → | Ordnance | Ammo |
| SSS01 | Projectile Continue reading → | Ordnance | Ammo |
| SSS02 | Projectile Continue reading → | Ordnance | Ammo |
| STAR OF MERIT | Terran Military Medal Continue reading → | Decorations | Medals - Military |
| Starbase Frostbite | Planetary Base Continue reading → | Key Buildings | |
| Starbase Gulge | Planetary Base Continue reading → | Key Buildings | |
| Starbase Heatwave | Planetary Base Continue reading → | Key Buildings | |
| Starbase Nightbridge | Planetary Base Continue reading → | Key Buildings | |
| Stardrone | Heavy Fighter Continue reading → | Aircrafts | Fighters |
| Starguard | Attack Carrier Continue reading → | Carriers | |
| Starlance | Medium Fighter Continue reading → | Aircrafts | Fighters |
| Starmonk | Light Fighter Continue reading → | Aircrafts | Fighters |
| Stationary Defense License | Defenses Skill Ability to fire AX10, AX21, AX25, GDN4, MK3P, MK1D and MK2D | CTC | |
| STS-ANALOG | Space-To-Space Missile Continue reading → | Ordnance | Missile |
| STS-FIRESTAR | Space-To-Space Missile Continue reading → | Ordnance | Missile |
| STS-PERSEUS | Space-To-Space Missile Continue reading → | Ordnance | Missile |
| STS-QUESTOR | Space-To-Space Missile Continue reading → | Ordnance | Missile |
| STS-RALIX | Space-To-Space Missile Continue reading → | Ordnance | Missile |
| STS-STARCHILD | Space-To-Space Missile Continue reading → | Ordnance | Missile |
| STS-STARFLASH | Space-To-Space Missile Continue reading → | Ordnance | Missile |
| STS-STARSEEKER | Space-To-Space Missile Continue reading → | Ordnance | Missile |
| STS-VAGRANT | Space-To-Space Missile Continue reading → | Ordnance | Missile |
| Super Fighter Class License | Aircraft Skill Ability to pilot RAVEN, VANDAL and ZENSTAR | CTC | |
| Supply Depot | Key Structure Continue reading → | Key Buildings | |
| Supply Platform | Resupply Station Continue reading → | Other | |
| T-92 Fisheye | Drone Continue reading → | Deployables | |
| T-Shaft | Infantry Teleportation Continue reading → | Other | |
| T73P | Pistol Continue reading → | Infantry Weapons | Pistols |
| TAB MX1 | Ground Vehicle Continue reading → | Vehicles | |
| TAB MX1B | Commander Perk Continue reading → | Vehicles | |
| TAB MX2 | Ground Vehicle Continue reading → | Vehicles | |
| TACOPS Terminal | Tactical Operations Terminal Continue reading → | Other | |
| TACTICAL INFANTRY | Terran Military Ribbon Continue reading → | Decorations | Ribbons - Military |
| Tactical Info Pad | Inventory Item Continue reading → | Infantry Gear | |
| Tactical Insertion Protocol | Infantry Improvement Skill Ability to select a spawn base (Starbase or Starstation) instead of randomly assigned a spawn base | CTC | |
| TACTICAL WARFARE | Terran Insurgent Ribbon Continue reading → | Decorations | Ribbons - Insurgent |
| TACTICAL WARFARE STAR | Terran Insurgent Ribbon Continue reading → | Decorations | Ribbons - Insurgent |
| Tactical Warning System | Inventory Item Continue reading → | Infantry Gear | |
| Tactical Weapons – Airborne | Inventory Skill Ability to use T92-FISHEYE and X89-EAGLE | CTC | |
| Tactical Weapons – Tactical | Inventory Skill Ability to use LADMK1, LADMK2, YN99MK1, YN99MK2, BLOODHOUND and CATALYST | CTC | |
| TALON | Turret System Continue reading → | Defense Systems | Turret System |
| Tank Class License | Ground Vehicle Skill Ability to drive MAYHEM and WILDCAT | CTC | |
| Target Designator T1 | Weapon Attachment Continue reading → | Infantry Weapons | Weapon Attachments |
| Target Designator T2 | Weapon Attachment Continue reading → | Infantry Weapons | Weapon Attachments |
| Target Designator Unit | Inventory Item Continue reading → | Infantry Gear | |
| Templar | Starstation Continue reading → | Stations | |
| Throwing Knife | Throwing Weapon Continue reading → | Infantry Weapons | Other |
| TKR-9 | Other Weapon Continue reading → | Infantry Weapons | Other |
| TKR12 | Shotgun Continue reading → | Infantry Weapons | Shotguns |
| TL22 | Assault Rifle Continue reading → | Infantry Weapons | Rifles |
| Troop Barracks | Key Structure Continue reading → | Key Buildings | |
| TSX1 | Mobile Missile System Continue reading → | Defense Systems | Missile System |
| TSX2 | Mobile Missile System Continue reading → | Defense Systems | Missile System |
| UAV | Ground Vehicle Continue reading → | Vehicles | |
| Vandal | Super Fighter Continue reading → | Aircrafts | Fighters |
| Vanguard | Starstation Continue reading → | Stations | |
| VT-112 | Android Continue reading → | Androids | |
| WAY OF THE WARRIOR | Terran Insurgent Medal Continue reading → | Decorations | Medals - Insurgent |
| Waypoint Designator Unit | Inventory Item Continue reading → | Infantry Gear | |
| WILDCAT | Ground Vehicle Continue reading → | Vehicles | |
| Wingchute | Inventory Item Continue reading → | Infantry Gear | |
| Wingchute-SC | Commander Perk Continue reading → | Infantry Gear | |
| Wingsuit | Inventory Item Continue reading → | Infantry Gear | |
| Wingsuit Training | Inventory Skill Ability to use Wingsuit/Wingchute | CTC | |
| Wingsuit-SC | Commander Perk Continue reading → | Infantry Gear | |
| WLAPG | Grenade Continue reading → | Infantry Weapons | Grenades |
| World Map | The Line Of Defense World Continue reading → | World Map | |
| Wrist Laser | Other Weapon Continue reading → | Infantry Weapons | Other |
| X716G | Naval Vehicle Continue reading → | Vehicles | |
| X89 Eagle | Drone Continue reading → | Deployables | |
| XN32 | Assault Rifle Continue reading → | Infantry Weapons | Rifles |
| XP10 | Mobile Turret System Continue reading → | Defense Systems | Turret System |
| XR-711 | Android Continue reading → | Androids | |